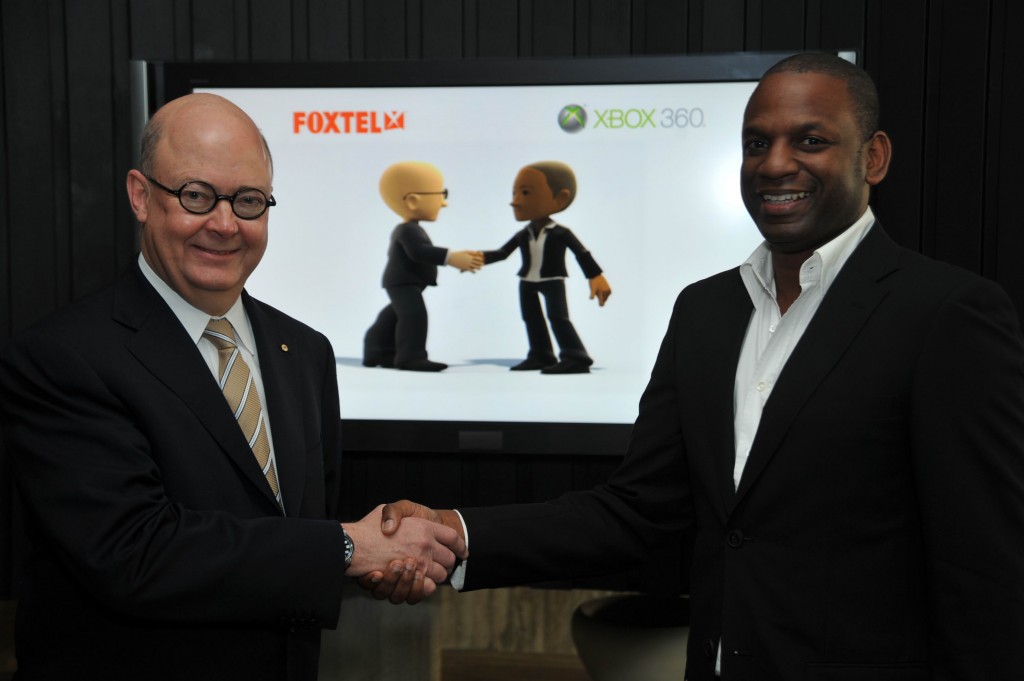 Shaking hands and sealing the deal Microsoft's : David McLean and Foxtel's Kim Williams
This is great news earlier this morning Microsoft announce a partnership between Xbox and Foxtel to bring Foxtel content straight to your TV through Xbox LIVE !!!  Some of the channels to be included will be : Nickelodeon, FOX Sports, Discovery, Disney, MTV, and many more.
This little partnership is also going to have video on demand services such as television and movies.  Now Foxtel customers will be able to access content without the use of the Foxtel set top box.
–
Here is the full details from the press release .. quite a bit of information but its a good read and explains everything you will need to know.
–
FOXTEL and Microsoft today announced a new partnership offering Australians a brand new way of receiving FOXTEL – over the internet and direct to television sets through Xbox 360's online service Xbox LIVE.
FOXTEL by Xbox LIVE will allow Xbox 360 owners in Australia to access FOXTEL channels including FOX Sports, Discovery, Nickelodeon, Disney, MTV, and other leading channels via their Xbox 360 entertainment console.
FOXTEL by Xbox LIVE will also provide a wide range of Video-on-Demand (VoD) services, including television series and movies. When the ground-breaking service launches later this year it will enable Australians, for the first time, to access FOXTEL without the need for a FOXTEL set-top-box.
FOXTEL by Xbox LIVE will be accessible in FOXTEL areas across Australia to all homes with a broadband internet connection. All you need is an Xbox 360, an Xbox Gold subscription and a FOXTEL by Xbox LIVE subscription.
The agreement brings together two of Australia's most recognised and respected brands combining each company's profound entertainment and consumer offerings. FOXTEL by Xbox LIVE provides Australians a new way of enjoying FOXTEL, and cements Xbox 360 as one of this country's leading innovative social entertainment platforms. Xbox LIVE connects more than 23 million people across 26 countries to an ever-expanding world of games, movies, TV, music, sport and social entertainment.
FOXTEL Chief Executive and Managing Director, Kim Williams AM said, "This is a very exciting new frontier. FOXTEL by Xbox LIVE will provide our 1.6 million subscribing households, as well as new customers, a transformative way of receiving and enjoying FOXTEL over the internet. We will offer FOXTEL by Xbox LIVE with various packages and prices and under flexible agreements. It is an exciting new way of exploring FOXTEL's universe of content for a new generation of customers."
David McLean, Head of Entertainment and Devices, Microsoft Australia said, "The strategic partnership with FOXTEL builds on our great range of entertainment offerings. We are proud of the new interactive entertainment experiences we continue to deliver to our customers and have no doubt that 2010 will be an exciting year for Xbox."
"As we approach one million Xbox 360's sold in Australia, we are looking forward to our customers having the opportunity to receive FOXTEL by Xbox LIVE. Last year alone, Australians spent more than 106 million hours on Xbox LIVE including gaming and social networking. With this FOXTEL partnership, there are more reasons than ever to connect your Xbox 360 to our online service," said McLean.
Kim Williams added, "This significant partnership is true to our heritage of investing and innovating for customers who embrace new technology and content developments. With at least 30 live channels and a wide suite of Video on Demand services, delivered over the internet via Xbox LIVE, no other television service comes close to this revolutionary new IP offering, so that once again FOXTEL is at the fore-front – a natural home for us."
The agreement between Microsoft and FOXTEL is one of the first of its type in the world, joining partnerships between Microsoft and BSkyB in the UK and Microsoft and CANAL+ in France.
Microsoft and FOXTEL are working together to launch the FOXTEL service on Xbox LIVE towards the end of the calendar year. Packages and prices, the full channel line-up, and further product details will be released publicly closer to the service launch