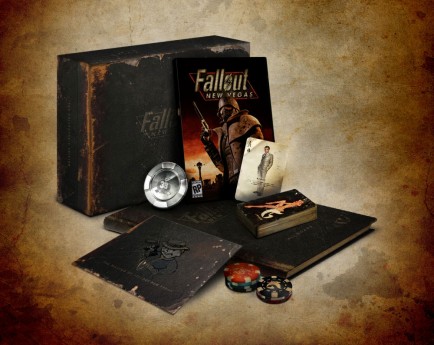 Looks like those of us in North America will be seeing the above special edition if we so choose to purchase it.  Fallout: New Vegas' creators Bethesda has released information about this special edition today and here is what it includes:
"Lucky 7" poker chips. Each of the seven poker chips was designed to represent chips from the major casinos found on the New Vegas strip and throughout the Mojave Wasteland.

A fully customized Fallout: New Vegas deck of cards. Each card in the pack has been uniquely illustrated to depict characters and factions found within the game. Use the cards to play poker, blackjack or Caravan, an original card game that was created by Obsidian especially for New Vegas!

A recreation of the game's highly coveted "Lucky 38" platinum chip.

A hardcover graphic novel "All Roads", that tells the story of some of the characters and events that lead up to Fallout: New Vegas. "All Roads" was written by Chris Avellone, the game's creative director, and created in conjunction with Dark Horse Comics.

'The Making of Fallout: New Vegas' DVD. This documentary DVD will contain exclusive video content, including interviews with the developers in which they take you from concept to creation and discuss topics such as story, setting, legacy of the Fallout franchise and more.
Currently the special edition is set to go for sale at $20 more than standard asking price at $79.99 in North America. Only $69.99 however for the PC version. Prices from Gamestop, so subject to change as time goes on.  Currently there is no set release date, instead Bethesda has slated Fallout: New Vegas for sometime in Fall of 2010.