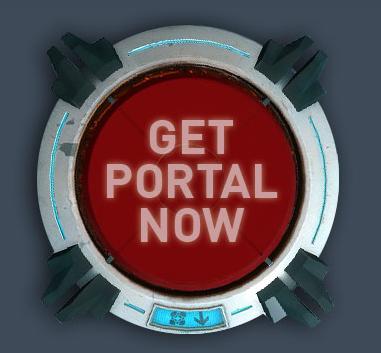 If you have Steam on your PC or Mac, you better head over to this link. When there you can click the button seen above and voila. You have one of the best puzzle games ever made on your PC/Mac easy as that. You must have a Steam account to obtain this, however you will not be hindered if you create an account just for this game.
You have until May 24th to obtain Portal for free. Steam is running this promotion to promote their new release of Steam on the Mac. However it is great news all around due to the fact it is available on the PC.
Be aware however due to the fact that it is a free game and one of the best, Steam's download servers are currently swamped with people obtaining the game. This may cause you to not be able to download the game immediately. Do not fret however because as long as the game is added into your gaming library in Steam, you will be able to download it or resume the download whenever you wish after wards. Hope you are all able to play this game, mine is currently downloading right now.
PC Requirements:
Minimum: 1.7 GHz Processor, 512MB RAM, DirectX® 8.1 level Graphics Card (Requires support for SSE), Windows® Vista/XP/2000, Mouse, Keyboard, Internet Connection
Recommended: Pentium 4 processor (3.0GHz, or better), 1GB RAM, DirectX® 9 level Graphics Card, Windows® Vista/XP/2000, Mouse, Keyboard, Internet Connection
Mac Requirements:
Minimum: OS X version Leopard 10.5.8, Snow Leopard 10.6.3, 1GB RAM, NVIDIA GeForce 8 or higher, or ATI X1600 or higher, Mouse, Keyboard, Internet Connection