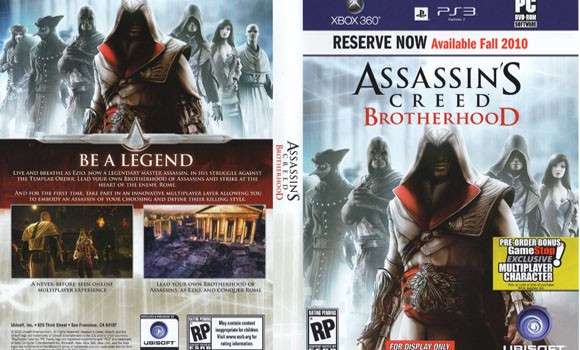 A Gamestop employee recently leaked a snapshot of the Assassin's Creed: Brotherhood box art. Ubisoft followed up by confirming that it is in fact the next Assassin's Creed game.
The Small text reads, "Live and breathe as Ezio, now a legendary master assassin, in his struggle against the Templar order. Lead your own brotherhood of Assassins and strike at the heart of the enemy: Rome. And for the first time, take part in an innovative multiplayer layer allowing you to embody an assassin of your choosing and define their killing style."
This is supposedly the spin off that Ubisoft announced a while back. The tiny screenshots seen on the back of the placeholder art states "A never-before-seen online multiplayer experience" as well as the ability to "Lead your own brotherhood of assassins, as Ezio, and conquer Rome."
There is also a pre-order bonus for an exclusive multiplayer character, most likely Altair but who knows.