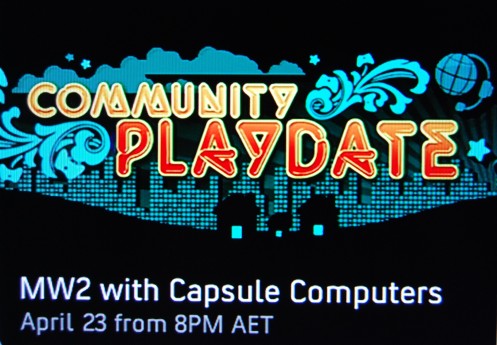 Microsoft have approved another Modern Warfare 2 Community Playdate with the Capsule Computers crew on April 23rd at 8pm SYDNEY TIME !!
As you all know the last community event was a GREAT SUCCESS everyone had a fantastic time and we're really excited to be able to host another one.
This time around we have 5 RETAIL XBOX TITLES (note titles are PAL versions) to give away.
Below are the details taken from the Xbox Australian Community Calendar.
If you live in Australia you will be able to see this information in the Community Blade of your Xbox 360 once you've connected to Xbox Live.
Now remember this is an Australian Community Event.  Only a few more days to go before we all start getting tactical.  For now start adding the following gamertags to your friends list:  
MasterAbbott, Deathdude222, Kingroc69, xI ROCK Ix 
Special thanks to Microsoft Australia for allowing us to host this great community event.  Hope to see you all there on the night !!  Make sure you all write it down in your diaries as you don't want to miss out on playing with the Capsule Computers Crew !!