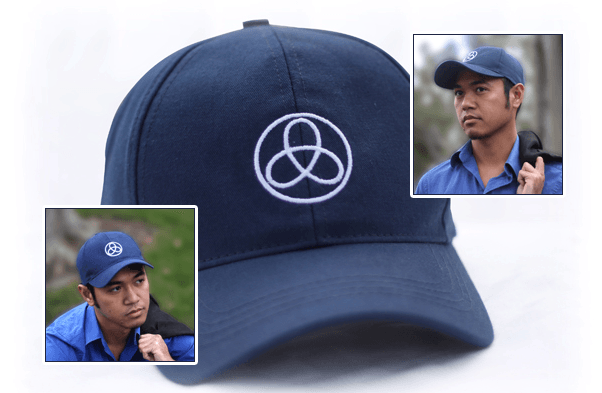 If you pre-order your copy of Shin Megami Tensei: Persona 3 on PSP you'll be able to pick up this super cool Junpei Baseball Cap. Now this is a must have and you'll be kicking yourself if you miss out on this great little offer.   This pre-order bonus promotion is exclusive to Amazon.com, Amazon.ca, and GameStop/EB Games (in stores and online in the United States and Canada), and only while supplies last.
The official Press release infomation is available after the break.
If you miss out on this limited quantity collectible, you'll regret it for the rest of your life (Also, your scalp could sunburn)
IRVINE, CALIFORNIA – APRIL 28, 2010 – Atlus U.S.A., Inc. today added even more incentive to what 9 out of 10 Atlus employees already considered a tremendous value with the announcement of a pre-order bonus baseball cap for Shin Megami Tensei®: Persona®3 Portable™ for PSP® (PlayStation®Portable) system. The hat, modeled after the one worn by fan-favorite SEES member Junpei Iori, offers a rare collectible to celebrate while also serving as a rather convenient costume component for cosplay-minded gamers. This pre-order bonus promotion is exclusive to Amazon.com, Amazon.ca, and GameStop/EB Games (in stores and online in the United States and Canada), and only while supplies last.
"Hardcore roleplaying game fans are always telling us how memorable the cast of characters in Persona 3 is for them," commented Aram Jabbari, Manager of Public Relations and Sales, as he adjusted his Junpei baseball cap whilst gazing into a mirror. "We could think of no more exciting a pre-order bonus than something straight out of the game, an extra that evokes a beloved character and has the power to make gamers feel like they're part of the SEES squad of students responsible for saving the world from darkness."
News of this premium pre-order bonus only complements what is already one of the biggest, deepest, and most satisfying handheld roleplaying games of all time. Unique among its competitors, Persona 3 Portable is laden with stark contrasts and a constant theme of duality. By day, players attend school, juggle interpersonal relationships, and even court a romance or two. By night, they are tasked with the lofty goal of saving the world from encroaching Shadows and darkness, having to fight off a grotesque menagerie of otherworldly creatures.
Featuring the addition of a new player-controlled female protagonist who offers players a fresh new perspective to one of gaming's most inventive narratives, P3P dramatically increases the replayability of a game already renowned for its length and depth. Numerous additional improvements and enhancements, like reduced load times and one-button menu shortcuts, serve to streamline the experience for optimal handheld RPG enjoyment.
SMT: Persona 3 Portable is currently scheduled for release on July 6, 2010. The Junpei baseball cap is only available as a pre-order bonus and only from participating retailers (while limited supplies last). For more information, visit the official full Persona 3 Portable website: http://www.atlus.com/p3p
About Shin Megami Tensei: Persona 3 PortableP
Terrible creatures lurk in the dark, preying on those who wander into the hidden hour between one day and the next. As a member of a secret school club, you must wield your inner power-Persona-and protect humanity from impending doom. Will you live to see the light of day?
Key Features
Maximum Persona 3-The RPG that captured critics and fans alike achieves a new level of excellence. Built upon an enhanced version of the game, players will find numerous significant improvements, including the addition of Skill Cards, part-time jobs, a total of five difficulty settings (ranging from the newcomer-friendly "beginner" to the ultra-hardcore "maniac"), and most importantly, the ability to directly control your teammates in battle.
Gain a whole new perspective-The choice of your protagonist's sex at the start of the game has a dramatic impact on the game's intricate social dynamics. Persona 3 veterans will get a kick out of playing through the story from a new female perspective, gaining new Social Links, special events, and unique romantic opportunities.
Slick system enhancements-Improved playability permeates every aspect of the gameplay experience. One-button menu shortcuts, streamlined team equipment changes, incredibly short load times, and other tweaks and enhancements create an ideal pace for portable gaming.
About Atlus U.S.A., Inc.
Located in Irvine, California and founded in 1991, Atlus U.S.A., Inc. is renowned for its proud tradition of publishing exceptional role-playing games with strong niche appeal. The Atlus library of critically acclaimed video games includes Demon's Souls, Odin Sphere, the Trauma Center series, and the award-winning Shin Megami Tensei series. For more information, visit http://www.atlus.com.
For breaking news, special promotions, insider info, and more, visit http://www.atlus.com/faithful to join the ranks of the Atlus Faithful!
SMT: Persona 3 Portable has been rated "M" for Mature with Blood, Language, Partial Nudity, Sexual Themes, and Violence by the ESRB.
©2006-2010 ATLUS SHIN MEGAMI TENSEI, SMT, and Persona are registered trademarks of Atlus U.S.A., Inc.