From yesterdays Super Street Fighter IV pre-order post here is 100% confirmation on what your going to be getting when you pre-order Super Street Fighter IV and Lost Planet 2.
Read the press release information below, enjoy and most of all PRE-ORDER your copies now !!
–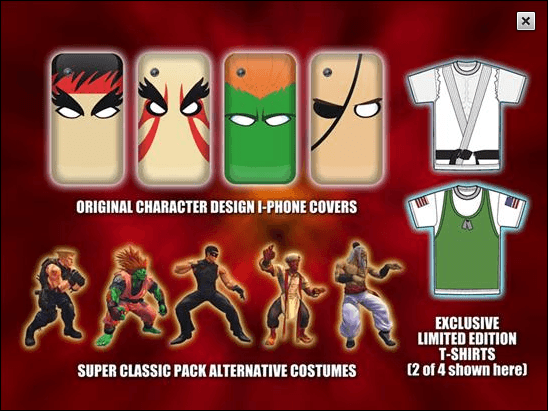 PRESS RELEASE INFO !!
Super Street Fighter IV confirmed for release on Friday April 30 th and Lost Planet 2 just a few weeks later on May 18 th it is time to reveal some of the great pre-order incentives that will be available to European & Australian gamers plus some other great LP2 news.  
Super Street Fighter IV
– Dress your characters, yourself or your i-phone in style
i-
phone covers
– featuring stylised images of fan favourite characters, these covers will only be available via this pre-order initiative.
Super Classic Costume pack – Get brand new costumes for Gen, Dhalsim, Blanka, Fei Long and Guile before they go on general sale; fighting never looked so good.
T-shirts – An exclusive range of limited edition t-shirts featuring unique designs which will not be available anywhere else.
Lost Planet 2
– Choose from multiplayer maps, your very own Akrid or an exclusive t-shirt
Collectible figure – This pre-order offers a limited edition figurine of one of the gigantic Akrid that players will encounter in Lost Planet 2.
T-shirt – With an exclusive design not available anywhere else those gamers choosing this pre-order will own a truly unique piece of Lost Planet 2 merchandise.
Multiplayer maps – Gamers opting for this pre-order will be able to download two new maps on which they can engage in 16 player multiplayer battles
Helix

– t
he underwater NEVEC mining facility is set over several layers full of twisted corridors. Swim between the layers, dive to the bottom to change your point of attack or launch yourself in an instant to the upper levels using the Aqua Catapults.  
Back to the Island

– t
he shady atoll of Island 902 is broken into wide open spaces and compact interiors.  Choose your battlefield from the beaches to the battered carrier, or explore a new dimension in the underwater area.  Control the bridge to dominate the map, but beware as you are vulnerable to attacks from all sides. 
Details of which local retailers will be running each specific pre-order campaign will be confirmed shortly.
Split-screen confirmed – After months of speculation, the development team that brought localized splitscreen gameplay to Resident Evil 5 has confirmed that they will be doing it again with Lost Planet 2. Gamers can join the battle for control of the precious thermal energy on E.D.N III alongside a friend from the same living room.
–
HOW GREAT IS ALL THIS FANTASTIC NEWS !! Let us know what you think !! Leave a comment below 🙂