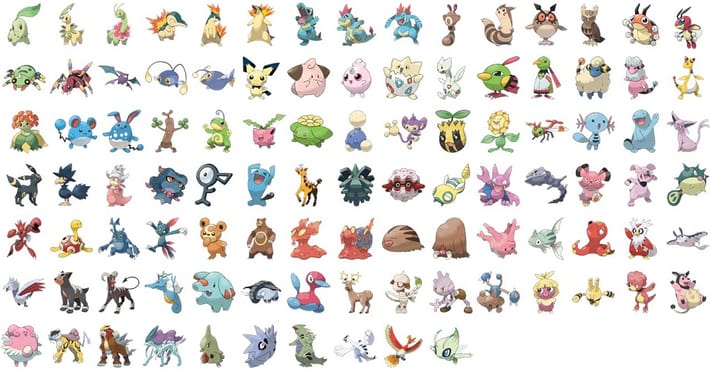 It's taken Niantic a while to pull off but Pokemon from the Gold, Silver and Crystal generation of games are finally making their way to the infamous mobile app Pokemon GO.  While I wouldn't expect to be able to catch any of the Legendary Pokemon such as Ho-oh, Lugia and Celebi anytime soon, the update that's confirmed to drop sometime this week will add over 80 new Pokemon to catch in the wild as well as a host of other new features including:
Additional Pokémon: More than 80 Pokémon that were originally discovered in the Johto region in the Pokémon Gold and Pokémon Silver video games, as well as Pokémon with gender-specific variations, will start rolling out in Pokémon GO.
New Evolutions: There are now more opportunities to evolve your Pokémon in Pokémon GO than ever before. Some Pokémon originally discovered in the Kanto region will soon be able to evolve—into Pokémon that inhabit the Johto region! Be on the lookout for new Evolution items at PokéStops, which you'll need to evolve some Pokémon.
New Encounter Gameplay: When you encounter Pokémon in the wild, don't be surprised if they react in new ways as you're trying to catch them. You'll also notice the addition of new item carousels that allow you to select Berries and Poké Balls directly from the encounter screen. Hone your skills and catch those elusive Pokémon!
New Berries: Pokémon enjoy eating Berries, and you'll have the opportunity to get two new Berries by spinning the Photo Disc at PokéStops—Nanab Berries and Pinap Berries! Giving a Pokémon a Nanab Berry will slow its movements, making it easier to catch. The Pinap Berry doubles the amount of Candy you'll receive if your next catch attempt succeeds.
New Avatars and an Expanded Wardrobe: Now you'll be able to give your avatar a complete upgrade! Customize your look with a whole new selection of hats, shirts, pants, and other items.
This announcement follows on from the recent release of baby Pokemon from Generation 2 such as Togepi and Pichu. Players could only obtain these Pokemon by hatching them from special eggs with orange spots on them. Niantic have continued to increase the functionality of Pokemon GO in recent months adding features such as the much improved radar, daily login bonuses and special events. The Valentines Day event has just ended and gave players the opportunity to find pink Pokemon easily and obtain double the normal amount of candy.