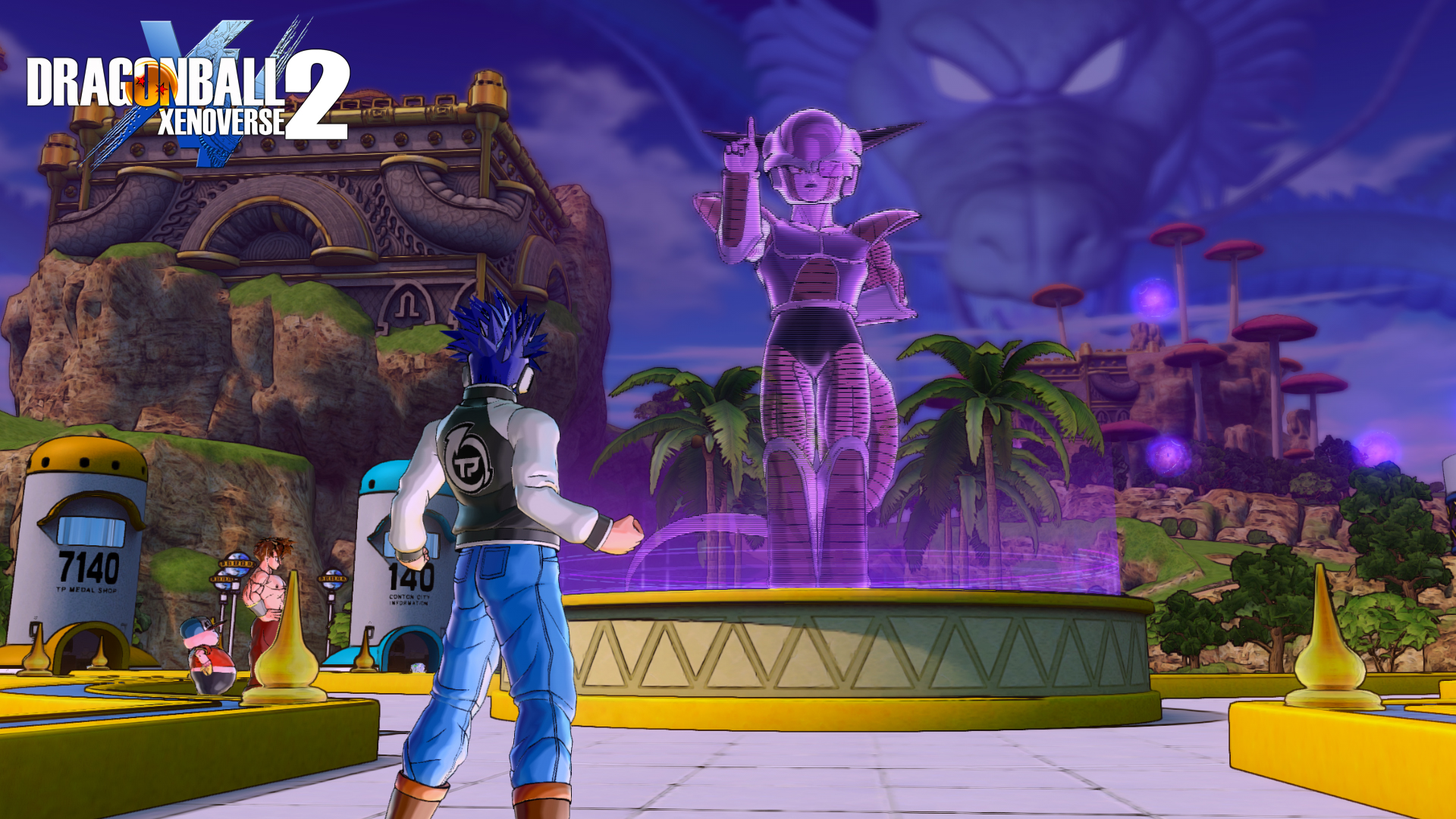 Patch 1.05 for Dragon Ball Xenoverse 2 was the big patched that was promised for December 20th but it seems to have come early on both the PS4 and Xbox One (with the Steam version once again screwed over with a coming soon message). Below are the patch notes right from the update history. In addition to what is listed below I also noticed Saiyan race created characters now have a new line of dialogue when going Super Saiyan 3.
1.05
-Adjusted game balance
1.04
-Implemented a new online event "Frieza's Siege Event"
-Implemented a new event to raise the level cap
-Implemented a special area to call out for participants for player and team match
-Added the room search function for online expert mission in the online PQ reception (for some reason it says online twice in the latter part of that sentence)
-Improved map UI
-Added voice of Future Trunks
-Implemented contents of free update
-Implemented contents of "Dragon Ball Super Pack 1"
-Adjusted battle balance
-Other minor bug fixes
Also added but not mentioned there was was the inclusion of new variations of Hit and Super Saiyan God Super Saiyan Goku. Hit gains access to his Rapid Improvement technique that seems to include counters and Goku gains access to Kaioken and Kaioken x 10 while in his transformed state, just like in the Universe 6 vs Universe 7 arc of Dragon Ball Super.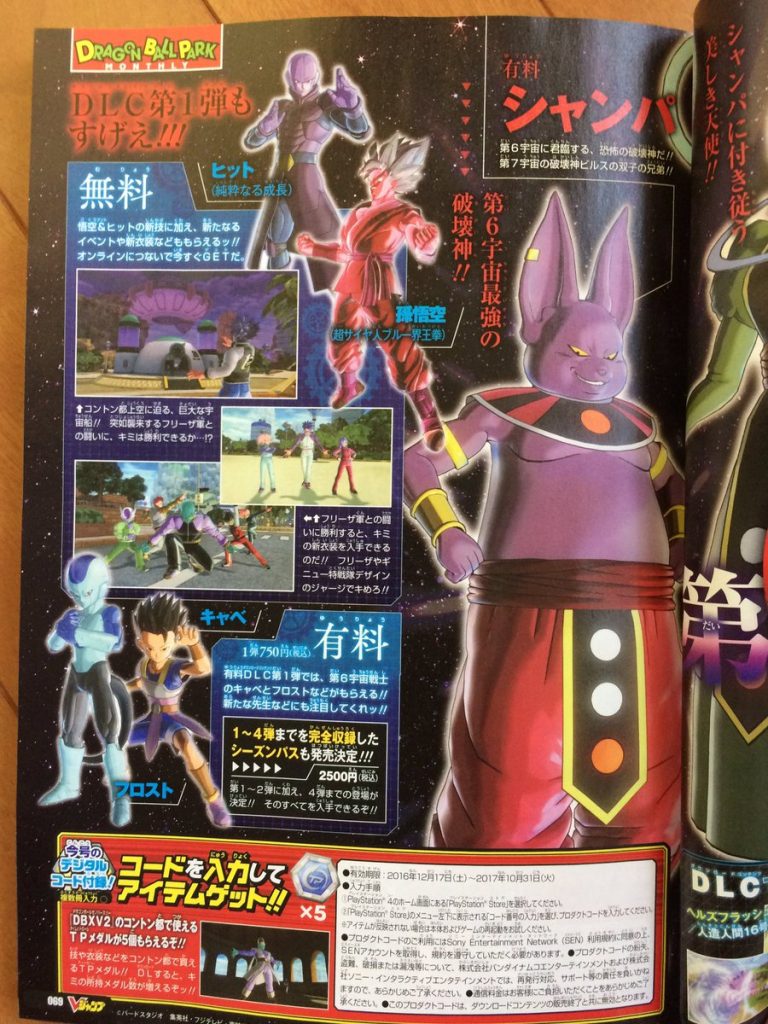 DLC Pack 1 will drop on the 20th of December but thanks to a recent V-Jump leak we now have confirmation on two characters that will appear in DLC Pack 2. Champa, the God of Destruction from Universe 6 and his lovely assistant Vados will be making their playable video game debuts in Xenoverse 2. It will sure be interesting to see what they do with Vados as she hasn't been involved in any combat at all in the entire series and even Champa has had only brief moments of fighting. No date or other information is provided with these scans as of yet.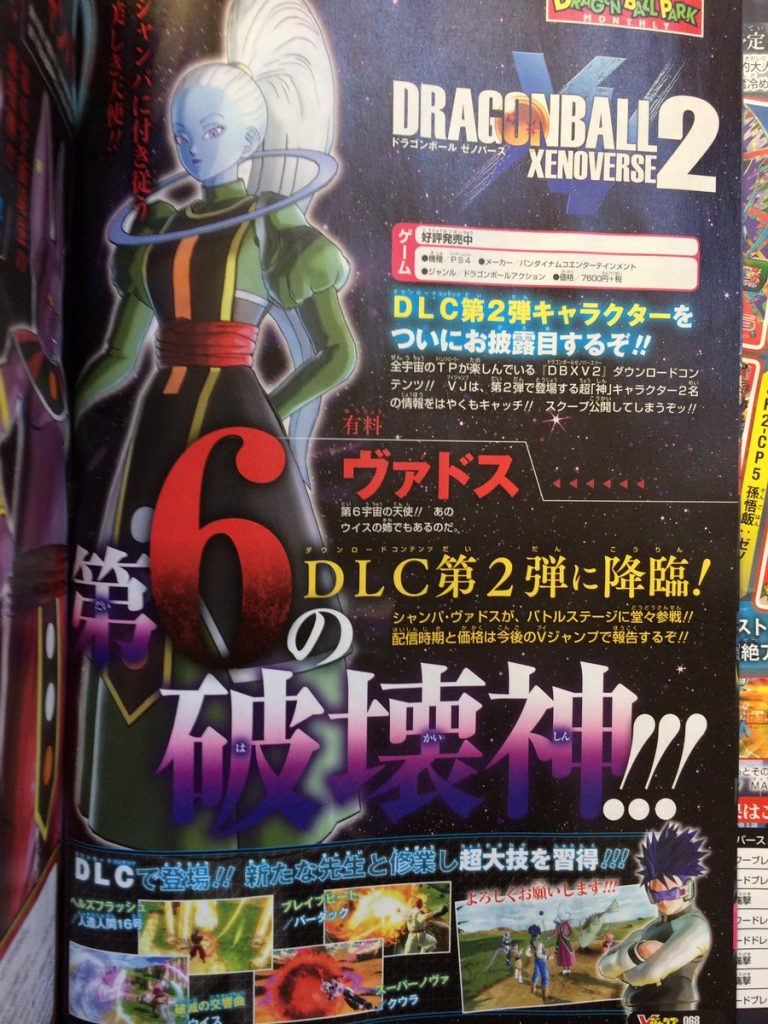 UPDATE: Bandai Namco have released a trailer showcasing the content of the DLC and also released a promo of their own revealing Champa and Vados alongside other characters that will be included in the Season Pass in one of the future packs. This includes Super Saiyan Rose Black, Super Saiyan Blue Vegito and Zamasu. Judging by the … more is still to come.