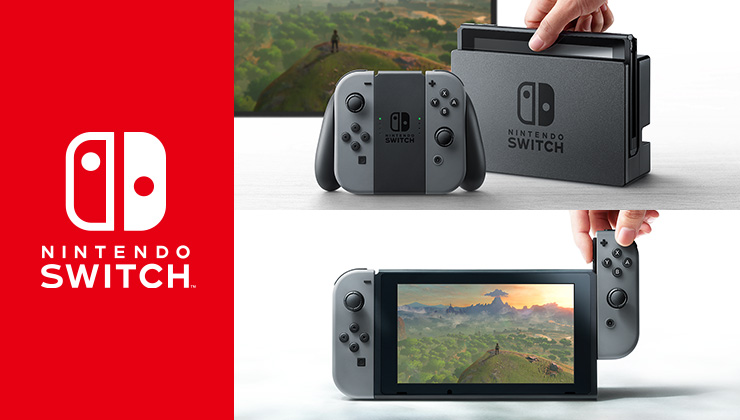 Nintendo delivered on it's promise to officially unveil the Nintendo NX today, releasing a trailer that showed off the new consoles look, basic features, a few surprise games and the official name, the Nintendo Switch. It seems all the handheld/console hybrid rumours were true.
The entire Nintendo Switch console is essentially a handheld screen. This screen features two detachable controllers (officially called Joy-Cons) that feature control sticks, face buttons and a shoulder button that slot on to the side of the screen. These can be removed to play with both controls with your hands separated or two people might make use of one control each to play a multiplayer game as demonstrated with Mario Kart. Multiple Switch consoles can communicate with each other wirelessly similarly to the Nintendo 3DS. A more traditional 'pro controller' is also being made available.
The screen will slide into a dock that remains connected to your TV to give it a more traditional home console feel. A game card slot was spotted in the trailer giving credibility to the Switch using cartridges as opposed to disc. We didn't get any concrete details or even a solid 360 look at the console and controls themselves, so a lot of the Nintendo Switch is still a mystery. This leaves perhaps the two most burning questions unanswered, battery life of the console when not in the dock and power.
Games revealed include a HD port of Skyrim, a new 3D Mario game with a Mexican cultural influence in the level, Zelda: Breath of the Wild and two seemingly enhanced ports or entirely new games, Mario Kart and Splatoon. The Mario Kart game being played had King Boo as a playable character and showed the player holding two items instead of one. The Splatoon gameplay featured new customisation options, a new map and new weapons.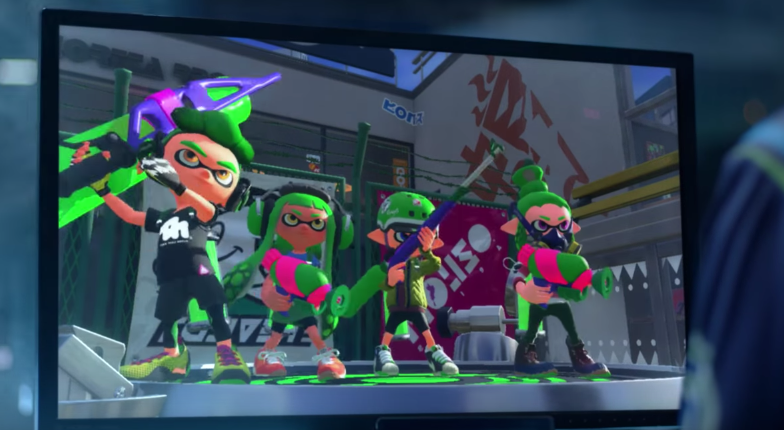 Nintendo were also proud to announce the plethora of third party support that is developing games for the NX. Third party support on the Wii U was obviously a major issue however it is important to remember the Wii U also boasted impressive third party support at it's launch as well. The list for NX developers is:
• 505 Games
• Activision Publishing, Inc.
• ARC SYSTEM WORKS Co., Ltd.
• ATLUS CO., LTD.
• Audiokinetic Inc.
• Autodesk, Inc.
• BANDAI NAMCO Entertainment Inc.
• Bethesda
• CAPCOM CO., LTD.
• Codemasters®
• CRI Middleware Co., Ltd.
• DeNA Co., Ltd.
• Electronic Arts
• Epic Games Inc.
• Firelight Technologies
• FromSoftware, Inc.
• Frozenbyte
• GameTrust
• GRASSHOPPER MANUFACTURE INC.
• Gungho Online Entertainment, Inc.
• HAMSTER Corporation
• Havok
• INTI CREATES CO., LTD.
• KOEI TECMO GAMES CO., LTD.
• Konami Digital Entertainment Co., Ltd.
• LEVEL-5 Inc.
• Marvelous Inc.
• Maximum Games, LLC
• Nippon Ichi Software, Inc.
• Parity Bit Inc.
• PlatinumGames Inc.
• RAD Game Tools, Inc.
• RecoChoku Co., Ltd.
• SEGA Games Co., Ltd.
• Silicon Studio Corporation
• Spike Chunsoft Co., Ltd.
• SQUARE ENIX CO., LTD.
• Starbreeze Studios
• Take-Two Interactive Software, Inc.
• Telltale Games
• THQ Nordic
• Tokyo RPG Factory Co., Ltd.
• TT Games
• UBISOFT
• Ubitus Inc.
• Unity Technologies, Inc.
• Warner Bros. Interactive Entertainment
• Web Technology Corp
Nintendo always manages to surprise and while all the rumours and leaks kind of ruined that, the Switch is definitely something new in the home console market. Nintendo promise more information such as launch window titles, launch date, price, product configuration and related specifics will be announced prior to the reaffirmed March launch. Let us know what you think about Nintendo's newest console in the comments below.
UPDATE: A few new tidbits on the Nintendo Switch has been revealed from various sources.
The Switch will not be physically backwards compatible with any Wii U or other software.
It will also not accept 3DS cartridges.
The Switch will be compatible with amiibo.
It is rumoured the screen will be a multi-touch touch screen. However due to the nature of the consoles dock, games are required to not require the touch screen.
It is rumoured the console will have better performance when placed in the dock.
Battery life is seemingly disappointing with a rumoured 3 hours of life. Of course these last 3 statements are not officially confirmed from Nintendo as of yet and are subject to change.