If you loved Farmville, the game that basically started the rise of casual gaming then you might be interested in life and farming simulator Story of Seasons. This game is the first in a new chapter in the Bokujo Monogatari series which has been re-branded for a Western audience but will continue the well-loved traditions of the long running franchise by Marvelous Inc.
Players take control of a farm in Oak Tree Town in an attempt to make friends and help the community thrive again. You can decide which crops to grow and animals to raise to help expand your property. Apart from framing players can also participate in the town's annual competitions, make their own furniture and even set up a wildlife safari full of exotic animals for fellow villagers to explore.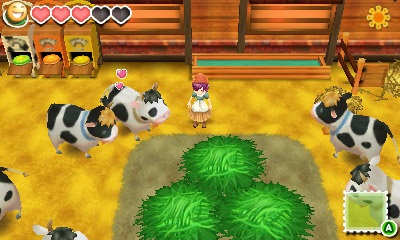 Your in game avatar will be customisable with new outfits unlocked through playing the game. Some accessories will grant bonuses such as extra health or stamina, and the right outfit might impress a fellow eligible bachelor or bachelorette. The game will also feature online functionality, allowing you to visit other friend's farms, help each other harvest their field and exchange gifts.
Story of Seasons is releasing exclusively for the Nintendo 3DS family in Australia and New Zealand on January 9th. We reviewed the game earlier this year when it was released in North America, check out our full review to see what we thought.