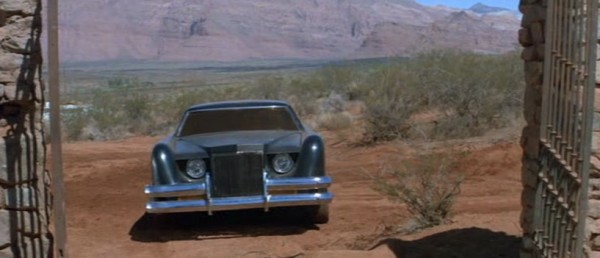 Here is some news worth celebrating! Elliot Silverstein's The Car will be coming to Blu-ray for the first time ever on December 15th! Yes, that is rather exciting, but some of you may be unfamiliar with the little film that has quite a fanbase behind it. Here is a brief catch-up: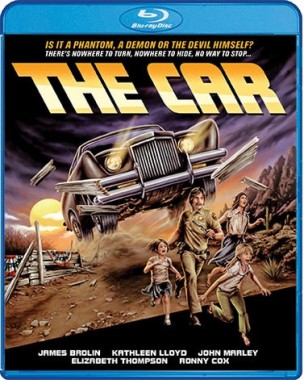 Fasten your seatbelts for the terrifying thrill ride that has become a cult classic! On December 15, 2015, SCREAM FACTORY™ is proud to present THE CAR, arriving for the first time on Blu-ray™. Directed by Elliot Silverstein, the action-packed thriller stars James Brolin (The Amityville Horror), Kathleen Lloyd (It Lives Again), John Marley (Deathdream), Elizabeth Thompson (A Shadow in the Street) and Ronny Cox (RoboCop). R.G. Armstrong (Race with the Devil, Evilspeak), Roy Jenson (Soylent Green), Melody Thomas Scott (Piranha, The Fury), Kim Richards (Assault on Precinct 13) and Kyle Richards (Halloween) also star in this high-octane thriller.

A must-have for loyal fans, movie collectors and horror-thriller enthusiasts to complete their home entertainment library, THE CAR Blu-ray also contains a collectible cover featuring newly rendered retro-style artwork and a reversible cover wrap featuring original theatrical key art.

*** Avid fans and collectors please take note: those who order THE CAR Blu-ray set directly from ShoutFactory.com and get the order shipped two weeks early, plus receive exclusive 18″x24″ poster featuring our newly commissioned artwork! Available while supplies last.
As always, Scream Factory have went out of their way to ensure this release has a good set of special features – and I must say for a movie that is as forgotten by most, a lot of people will be highly pleased.
THE CAR Blu-ray Edition

Special Features:

NEW Mystery of the Car – an interview with producer/director Elliot Silverstein
NEW The Navajo Connection – an interview with actress Geraldine Keams
NEW Just Like Riding a Bike – an interview with actress Melody Thomas Scott
Theatrical Trailer
TV Spot
Radio Spots
Still Gallery
Pre-order and get that artwork while it lasts, as this set will be a hot item when it launches later this year. Another great SHOUT! release that is sure to please fans of this bizarre – yet wonderful little gem.