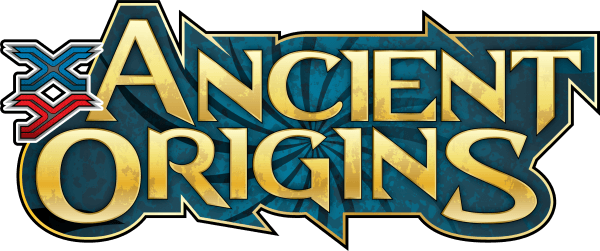 The Pokemon Trading Card Games newest expansion, Ancient Origins, is out now for fans to purchase from selected retailers. This latest set contains 100 new cards to collect and is the 65th set to be released. To celebrate, Nintendo have released a tie in Shiny Rayquaza event for the Omega Ruby and Alpha Sapphire Pokemon video games which is available now in most countries.
Ancient Origins contains new Special Energy cards, Ancient Traits, more Pokémon-EX, and special Shiny Pokémon! The cards will come in booster packs featuring 4 sets of art and two 60 card theme decks—Stone Heart and Iron Tide. New Ancient Traits arriving in XY—Ancient Origins include Θ Stop, Θ Max, and Θ Double.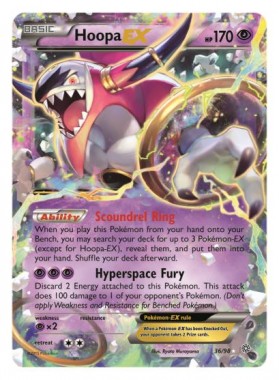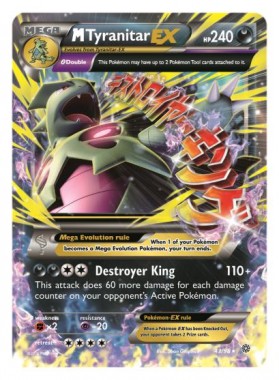 This set also marks the first time Hoopa will be turned into a Pokemon card as Hoopa-EX. This Pokémon is a must-have for decks loaded with Pokémon-EX—with its Scoundrel Ring Ability, you can search your deck for three other Pokémon-EX when Hoopa-EX comes into play. Mega Rayquaza-EX, Primal Groudon-EX, and Primal Kyogre-EX return in Ancient Origins as Shiny Legendary Pokémon with brand-new Ancient Traits and new artwork.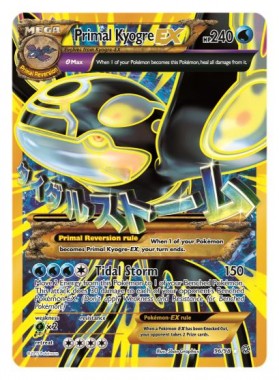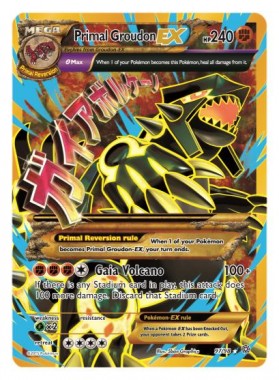 Key Features of the Pokémon TCG: XY—Ancient Origins expansion include:
– 11 New Pokémon-EX, Including 3 New Mega Evolution Pokémon, and 14 New Full-Art Pokémon-EX Cards—Including Mega Tyranitar-EX, Mega Ampharos-EX, and Mega Sceptile-EX, plus full-art Shiny versions of Primal Kyogre-EX, Primal Groudon-EX, and Mega Rayquaza-EX!
– Half Art Cards— Many Pokémon with Ancient Traits have half art cards, where the art extends into and behind the text box.
– 14 Trainer Cards— Many brand-new Trainer cards, a full-art Trainer card, and two new Special Energy cards add new depth and tactics to the Pokémon TCG.
– Booster Packs—Packs of 10 additional cards selected from the expansion.
– Two New Theme Decks—These 60-card preconstructed decks are designed to introduce players to the Pokémon TCG by enabling them to play right away.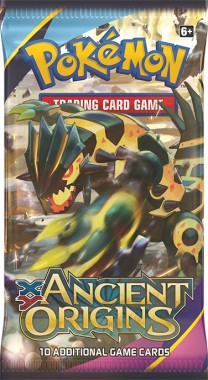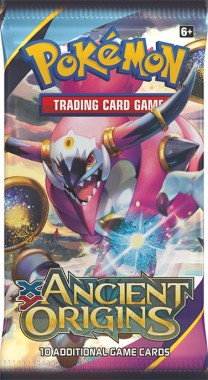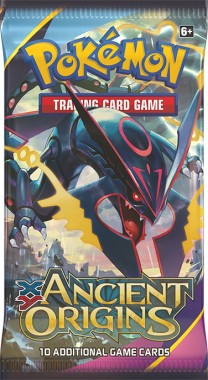 As with all the latest releases in the card game, XY—Ancient Origins theme decks and booster packs include an in-pack code card that unlocks virtual cards from the XY—Ancient Origins expansion for play in the Pokémon Trading Card Game Online at www.pokemon.co.uk/tcgo . This online version of the Pokémon TCG is also now available on iPad via the Apple App Store. The rules are the same for both the paper and online versions. Since the debut of the Pokémon TCG in 1996, more than 21.5 billion cards have been shipped to 74 countries around the world.