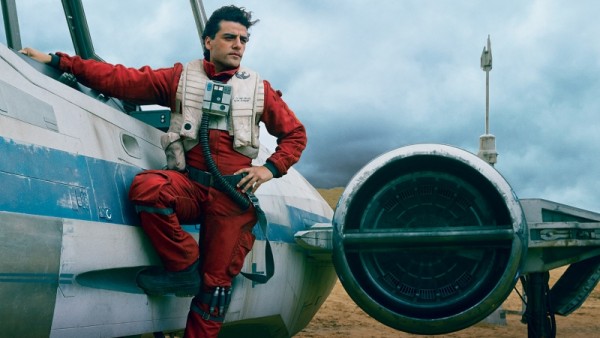 2015 is a big year for Star Wars. Not only are we getting a revamp of Star Wars Battlefront on PC and consoles along with the recently released digital editions of all six Star Wars films, but December brings a new film in the series: Star Wars: Episode VII — The Force Awakens. So much is still unknown about the upcoming Disney-produced film, but Vanity Fair sent famed photographer Annie Leibovitz to Pinewood Studios in London to capture some beautiful moments from the upcoming film's production.
Click each image for a full-size viewing.
As we all assumed, the Sith baddie with that odd-looking three-pronged lightsaber from the first teaser was Adam Driver playing the film's villain, Kylo Ren. Just in case you weren't 100 per cent certain that he is definitely the villain, he is pictured above leading snowtroopers. You can't be a good guy and lead those guys around.
A rogues' gallery (get it?) filling up the main hall of pirate Maz Kanata's castle.
The second character reveal comes from Oscar Isaac. Climbing out of his X-wing, Resistance pilot Poe Dameron will be one of the heroes in The Force Awakens. Yes, you read that right. The Rebel Alliance is now known as the Resistance.
Above, tracking dots are affixed to Lupita Nyong'o's face for her to play the CGI pirate character, Maz Kanata. We do not know on which side of the Resistance Kanata lies, but considering her castle full of rogues in the image above, I'd say she may be this trilogy's Jabba the Hutt.
Daisy Ridley's Rey sits atop her speeder, taking direction from J.J. Abrams on the planet surface of Jakku. We do not know Rey's last name yet, but everyone has a feeling it begins with an 'S' and ends with a 'kywalker'. I'm sure we'll find out more soon enough.
The final character reveal is Gwendoline Christie (Brienne of Tarth from Game of Thrones) as Captain Phasma, one of the leaders of the First Order, this film's new version of the Empire. Many remember Captain Phasma from the recent teaser, even going so far as to refer to her as the "Chrometrooper". With one stormtrooper that we know to be a hero in this film, maybe Captain Phasma could be another. But considering how bad-ass she looks, my guess is that she is pure evil.
Here, we see a bit of the old and the new that is mixed in The Force Awakens. Lucasfilm head Kathleen Kennedy and co-writer/director J.J. Abrams sitting with composer John Williams — who also composed the music of the previous six films in the saga — and co-writer Lawrence Kasdan — who co-wrote The Empire Strikes Back and Return of the Jedi — all sitting together and working on this new entry to the beloved franchise.
Last, but certainly not least, the cover for Vanity Fair's June 2015 issue. From the left, we see John Boyega as Finn, the droid BB-8, Daisy Ridley's Rey, Peter Mayhew as Chewbacca, and Harrison Ford as everyone's favorite scruffy-looking nerf-herder, Han Solo.
There will be one more Annie Leibovitz photo released tomorrow afternoon and we will be sure to update this post when it goes live.
Until then, feel free to pick up the June 2015 issue of Vanity Fair on Tuesday, May 12, at newsstands or get the digital edition a few days early on Thursday, May 7.
Also, check out a video from Annie Leibovitz's Vanity Fair photoshoot, featuring Kathleen Kennedy, J.J. Abrams, Daisy Ridley, and more at Pinewood Studios: