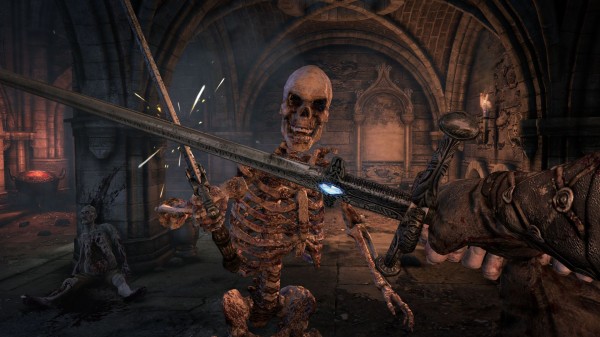 You may remember that Techland has been working on a dark fantasy game called Hellraid that placed players in a first-person perspective as they fought against skeletons and other fantasy creatures. Originally announced back in 2013 for last gen consoles, delayed to 2014 and announced for the Xbox One and PlayStation 4, then canceled for last gen, the company has been quiet about the game for a little over a year.
The reason for that has now been made clear as Techland has posted on their Facebook that Hellraid's development has been "put on hold" and that it was not meeting expectations. Due to this, the game has went "back to the drawing board" and will be "reinvented anew" while the company focuses on Dying Light.
The full statement from the company can be found below:
Dear Hellraid fans,

We would like to officially announce that our dark fantasy FPP game Hellraid will not be released this year as previously planned, and the development of the game has been put on hold.

In the recent months we conducted an internal analysis and came to the conclusion that Hellraid, in its current shape and form, is not meeting our own expectations for this project. Therefore, we decided the best course of action would be to send it back to the drawing board and invent our dark fantasy title anew.

In the meantime, we will consolidate our development resources and focus on further expansion of our Dying Light franchise.

We wish to thank all our fans for your support – you're the best!