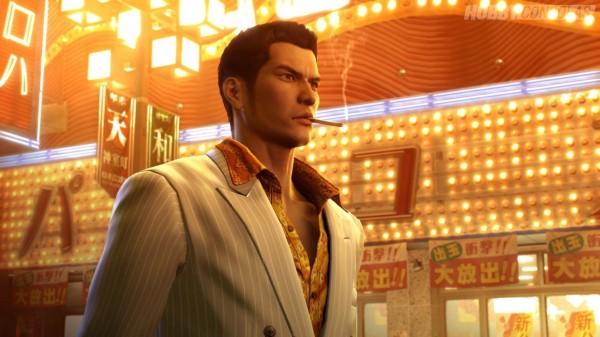 SEGA – those no-localising son-a-ma-guns! – have released two new Yakuza Zero trailers at TGS 2014. One focuses on the story and the other more-so on the overall experience, introducing all the new mini-games, side quests, combat mechanics and more. Of course, they're both in Japanese, so bear through the language barrier my fellow English speakers!
Directly below you'll find the former (apologies for the low quality). Being set in 1988, Yakuza Zero recognises the real-life Japanese asset price bubble period that saw real estate and stock market prices inflate heavily from 1986 to 1991. Why is this important to the player? Well, 20 year old Kazuma Kiryu trades in the market, competing to become the richest, most influential businessman in Kamurocho. As for the 24 year old Majima, his focus is on creating and maintaining the best hostess club in the area. As you may be able to ascertain, money is a huge motivator and factor in Yakuza Zero (not much has changed on that front!).
What has changed, however, are many things…graphically, Yakuza Zero presents a fidelity and level of detail that Yakuza Ishin should have had, being the first "next-gen" entry in the series. Gameplay-wise, the integration of an entirely new animation system and engine has resulted in a much more fluid, responsive and visually striking (no pun intended) combat experience. There are apparently over 100 side quests in the game, with new mini-games such as Disco, Rock-and-Roll shows and Female Bikini Wrestling; Japan successfully retains its title as perviest place on Earth with Yakuza Zero. "Cat-o Fight!" Check out the 7 minute long introduction to Yakuza Zero embedded below. The game releases next year in Japan, and hopefully – let's hope, wish, pray and dream – it might get released for a Western audience.