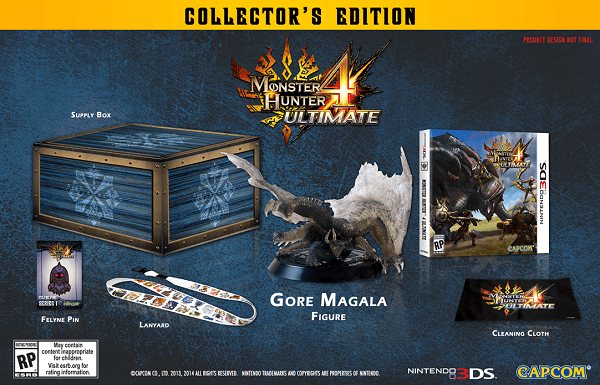 Capcom has announced that they will be offering a Collector's Edition of Monster Hunter 4 Ultimate when it is released in North America. This collector's edition will come with a price tag of $59.99 but it also includes a number of physical bonuses, including a mini figure. The full collector's edition can be seen above while the details of the items are as follows:
A copy of the game
Supply item box with magnetic lid
An exclusive translucent 3.5″ Goro Magala figure
Felyne wearing Gore Magala armor pin
Monster icon lanyard
Microfiber cleaning cloth (artwork might change)
Currently Monster Hunter 4 Ultimate is set to be released in North America as a 3DS exclusive sometime in early 2015.