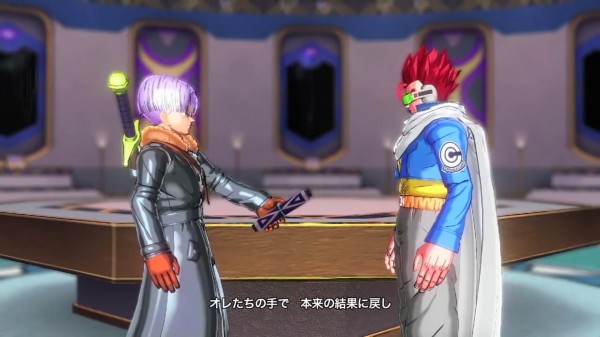 Bandai Namco presented Dragon Ball Xenoverse once again at the Tokyo Game Show and for the most part the presentation was identical to their previous show except for one sneaky difference. The trailer showed at this presentation was an extended edition featuring two more minutes of footage including more story scenes, more customisation options (including a Yardrat outfit, Great Saiyaman costume and Ox King helmet) and just more epicness in general.
You can view the new extended trailer below and also check out our recent Dragon Ball Xenoverse article which covers a number of points in detail from new story elements, battle mechanics and more information about how the online hub world Toki Toki City works. You can also check out our extended coverage of all the news from Tokyo Game Show 2014 by following the link. This is the best video we have of the trailer for now but will update with the official HD version as soon as Bandai Namco uploads it to their Japanese channel.
UPDATE: The European branch of Bandai Namco have confirmed the game will also be coming to PC via Steam! English full length HD trailer also uploaded.