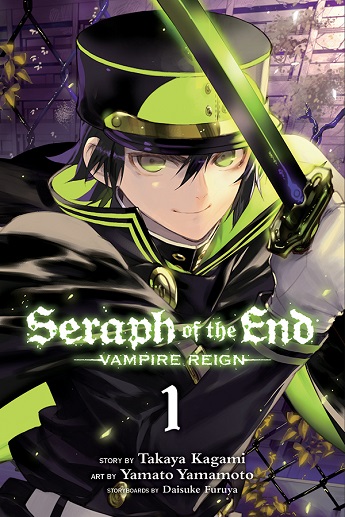 Viz Media has announced that they will begin releasing their new shonen manga series Seraph of the End: Vampire Reign in English starting on June 3rd. This date will mark the launch of both the digital version of volume 1 as well as the day that the physical version of volume 1 will be available for purchase. The digital version can be purchased for $6.99 while the physical release will cost $9.99 US or $12.99 CAN.
Seraph of the End: Vampire Reign is a series illustrated by Yamato Yamamoto with a story written by Takaya Kagami and it will be published under Vis'z Shonen Jump Advanced label. This physical release of the first volume will feature a fold-out full color poster and author commentary. As for the digital version there was no mention as to whether or not this version will include author commentary.
Future volumes of Seraph of the End: Vampire Reign are planned to be released three times a year from now on. As for the story of the manga, it takes place after vampires have risen to rule over the Earth. Yuichiro is out for blood as well, but rather than drinking it he wants to kill every vampire on the planet. Unfortunately for him, vampires are much stronger than humans and the only way to kill them is by mastering a Cursed Gear. To make matters worse, the only way he can join humanity's elite Vampire Extermination Unit, the Moon Demon Company, is to prove that he can work as a member of the team which is something he is not very keen on doing.