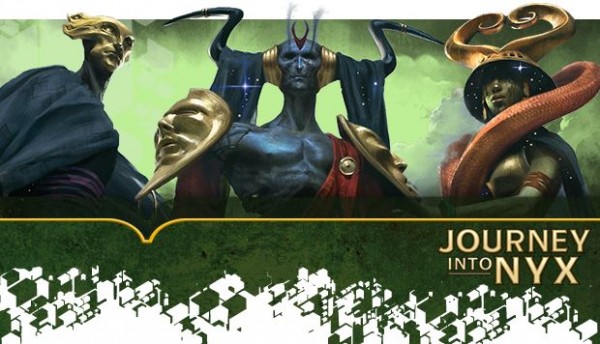 Fellow magic players gathered this weekend to celebrate the prerelease of Journey Into Nyx, the final set for the Hero's Journey. The famously addictive strategy trading card game from the Wizards of the Coast presented magic players with the seventh ultimate challenge of choosing the right path to forge a Godslayer from White — Forged in Glory, Blue — Forged in Intellect, Black — Forged in Tyranny, Red — Forged in War, and Green — Forged in Pursuit.
The Journey Into Nyx prerelease pack presented players with a unique Hero Artifact, promo card (Dawnbringer Charioteers, Scourge of Fleets, Doomwake Giant, Spawn of Thraxes and Hero's Bane), forge a Godslayer activity card, d20 Life Counter, 2 Theros boosters, 1 Born of the Gods booster and 2 Journey into Nyx boosters and a seeded booster. If you were one of the lucky players, you would have received one of the new two colour Gods, Atheros, God of Passage (White and Black) and Pharika, God of Affliction (Black and Green).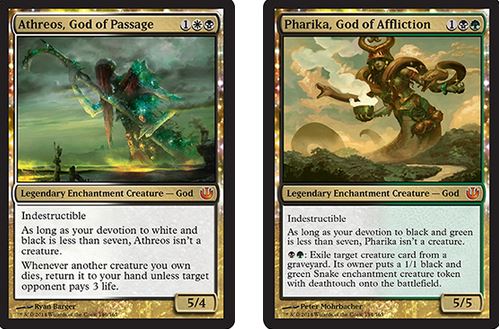 As with the previous Theros and Born of the Gods prerelease events, magic players had the choice of competing in sealed and/or 2 Headed Giant, with a casual or competitive prize pool for winners, depending on the flight session they attended. Having attended the 5-9pm Saturday flight at Burwood Good Games, I won an additional booster pack for obtaining a draw in one of my rounds, and scored myself a Hydra Broodmaster!
Don't miss out on the launch weekend this coming week and the Journey into Nyx Game Day scheduled for May 24-25.