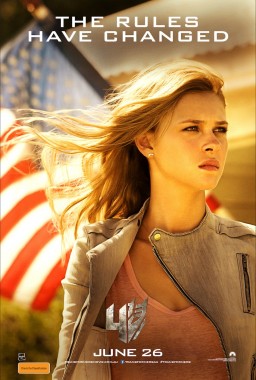 It feels like we only just stopped talking about Paramount Pictures' Transformers: Age of Extinction Super Bowl spot, and now we have another trailer!
Of note, this new teaser trailer – which can be viewed embedded at the bottom of this article – gives us a look at just how Optimus Prime is reintroduced in the film, along with a sneak peek at a big-time battle between the leader of the Autobots and… Grimlock?!
Yes, it seems that our favorite mack truck and the Dinobot general are not exactly seeing eye to eye, just like in the cartoons. Although they eventually band together, there was always a struggle for leadership, mostly due to the ego and pride of Grimlock. Seems Optimus has to smack some sense into him… before convincing Grimlock to allow him to ride him like a horse!
No wonder they have issues. Anyway, check it out below, and also note the new character posters for Tessa (Nicola Peltz) on the right (click to enlarge) and Optimus Prime below. Transformers: Age of Extinction comes out nationwide on June 26.