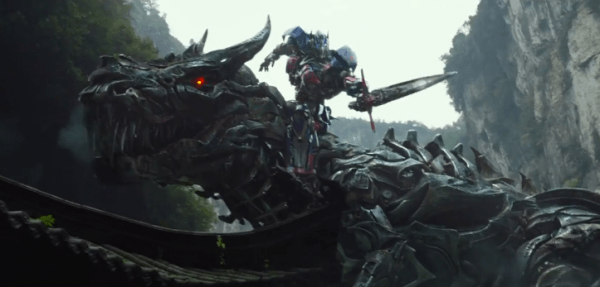 DINOBOTS! Article end… well, that's literally all I have to say; Transformers fans need nothing else in order to get hyped for Paramount Pictures' Transformers: Age of Extinction. The Super Bowl spot for the fourth entry in the Michael Bay-directed film series has everyone excited (although little hope remains for any character development on the human side). And yes, that's Optimus Prime riding Grimlock above.
You can check out the 30-second trailer embedded at the bottom of this article. Along with the Dinobot leader, what appears to be a two-headed version of Swoop (the pteranodon) is shown, as is the parachuting Crosshairs – the 2014 C7 Corvette Stingray – and our villain, a possible re-imagining of Galvatron (the long gun-barrel is reminiscent of his weaponised form). What's interesting to note here is that there was an incarnation of Galvatron, who is essentially an upgraded Megatron, which could transform into a double-headed dragon in Transformers: Robots in Disguise. In this state, he was referred to as GigaDragon in Japan. So maybe our assumptions are wrong and we've incorrectly identified Swoop.
What do you guys think? Is this the 10-changer Galvatron? If so, will he turn into a hand like he did in the cartoon?!