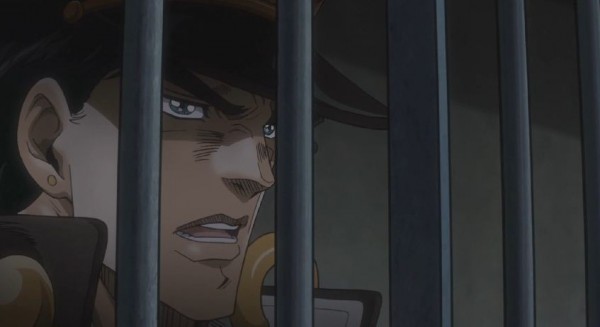 This makes five! Last week we brought you some news straight from "David Production" – an animation studio that has recently been working on an anime adaptation of of Horihiko Araki's long-running Shonen anime "JoJo's Bizarre Adventure" – in the form of a promotional video focusing on one of the characters from season three of the "JJBA" anime; Jean-Pierre Polnareff.
The promo video from last week was the fourth to be released for the series, the first one revolved solely around an older Joseph Joestar, and each are released with the intention of (re)introducing audiences to characters they may or may not have seen in the past in the lead up to the actual release of the series which is set to begin its air on the 4th of April. This week the the video promo centres around a man that goes by the name of "Jotaro Kujo"; THE main character of the third season of the "JJBA" series titled "Stardust Crusaders". Taking the lead as the main character for this "JJBA" series, Jotaro Kujo is a juvenile delinquent with a bit of a problem; he's got supernatural powers and doesn't know what the hell to do with them. He's first introduced while holding himself within a jail cell, he fears his new-found powers could hurt others so he locked himself away to avoid such incidents.
His grandfather, "Battle Tendency's" Joseph Joestar, flies in from overseas at the request of his daughter to sort out his grandson and as soon as he sees the young man has the supernatural powers of a "Stand" he immediately understands both what he's going through and what needs to happen next. Jotaro's "Star Platinum" (his "Stand") is extremely powerful and incredibly fast as well as accurate, this makes Jotaro's "Stand" one of the most deadly in the "JJBA" universe and he proves this with every battle won.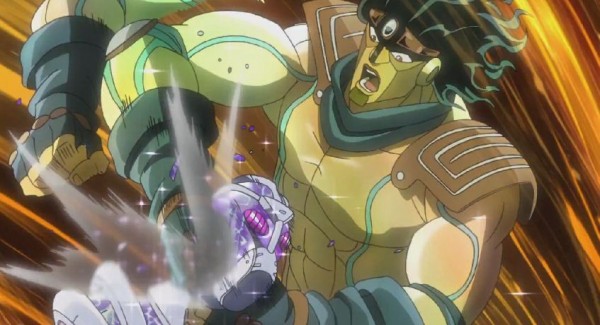 The voice of Jotaro Kujo will be provided by the amazing voice artist Daisuke Ono who you may know from his work as Captain Erwin (Attack On Titan/Shingeki No Kyojin), Daikoku (Noragami), Cain Dressel (Valvrave The Liberator) and so many others. Just from watching the short promotional video, one can already see how incredible of a voice actor Mr. Ono is and why he was the best choice to play a character such as Jotaro Kujo. With each and every promotional video released the series is looking better and better, luckily for everyone it is only about two weeks away from beginning its series run (April 4th) so we wont be waiting long to see these powerfully flamboyant characters in action once again.