Welcome ladies and gentlemen to the latest installment of Xbox Newsbeat; your one stop shop for all the Microsoft gaming news. This week we are taking a particular focus on the two home consoles Xbox 360 and Xbox One (sorry Windows Phone, maybe next week). Lets kick it off with some exciting news from the guys over at Wargaming.
As we announced earlier today, Wargaming have finally brought the immensely popular World of Tanks to the Xbox 360. That's right, so now players all across the globe can download this phenomenon, jump inside their favourite historical tank and blast their friends and foes apart with precision strikes. It should also be noted that World of Tanks: 360 Edition is free-to play! Sure there are the possible in-game purchases, but hey a free XBLA Game is a sweet deal none the less. Check out our announcement here to find out more about what you get if you download World of Tanks: Xbox 360 Edition.

If that wasn't enough I also have some more shiny Xbox 360 news (literally that is). Microsoft have also announced two brand new coloured 360 controllers – in a chrome/metallic black and purple. These Special Edition Black Chrome & Special Edition Purple Chrome controllers will be available for AU$69.95 this March (where all good video game products are sold).
Time to shift gears a bit. Let's talk about Xbox One. "Aw, but Xbox One doesn't have many games yet!" Well, just wait because Kinect Sports Rivals is confirmed for a release here in Australia on April 8th. No, this isn't a belated April Fools joke, you will actually be able to play against your friends in embarrassing sports like rock climbing and jet-skiing all from the comfort of your own home… In front of the Kinect… With its stunning 1080p HD visuals and gameplay that has been designed from the ground up to take advantage of the new Kinect Hardware, Kinect Sports Rivals looks to bring a whole lot of fun to the living room.
In order to bring the competition to the next level, Kinect Sports Rivals also introduces teams and captains. Players will be able to choose one of a number of unique teams that each have their unique identity, ethos, and equipment attributes to further their score and help crush their friends.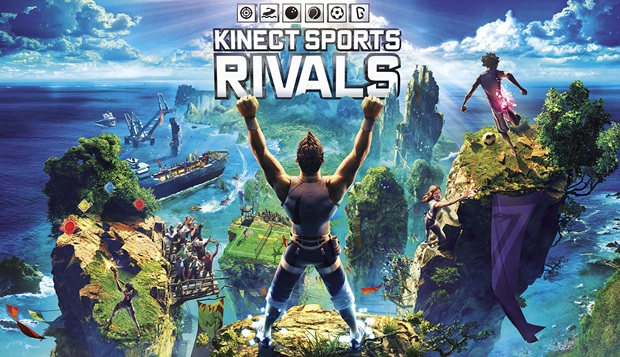 So what if Kinect Sports isn't your thing? Do you consider yourself more of a hard-core online gamer? Well guess what, Microsoft has some exciting news for you too! Coming very soon there will be an update to your console that will improve the multiplayer and party system of the console. With the update (that your console may have already updated by the time you read this) brings the following new features to the console:
Get to your friends list faster. The friends list will be front and center on the homepage of the Friends app. Click the Social tile on Home, or say "Xbox, go to Friends" to see who's online and what they're up to. From there you can quickly send messages and get into a party.
Party chat will be turned on by default. When you party up, chat audio will be turned on by default.
Chat with friends playing different games. Party chat will be separated from people playing your game, so you can chat with your friends who are online or you can chat with everyone playing the game.
We're adding an "Invite friends to game" option to your multiplayer titles moving forward. Similar to Xbox 360 titles, this will appear inside a games' menu and offer a simple and quicker way to set up your multiplayer battles. Selecting "Invite friends" will let you invite friends to your game and party.
We're adding "Recent Players." This is a simple list that shows you Xbox Live members you've recently played with, making it easier to stay in touch with people, or add new friends after your multiplayer battles.
So now that we have covered all that, lets wind up this week's Newsbeat with one last piece of hardware news. Microsoft will soon be launching a new headset for the console that will bring full stereo sound right to your ears. This is great for is you live in a share house, or just don't want to bother the neighbours with the sounds of your sweet Ultra Combo on Killer Instinct. More than that, there will also be an adapter available that will let you plug-in your pre-existing stereo headset. The Headset and Adapter will be available early March for AU$99.95and AU$39.95 respectively.
So that's it for this week's Xbox Newsbeat. Did you see anything that piques your interest? Let us know in the comments below and remember to stay tuned to Capsule Computers for all that Xbox news as it becomes available.