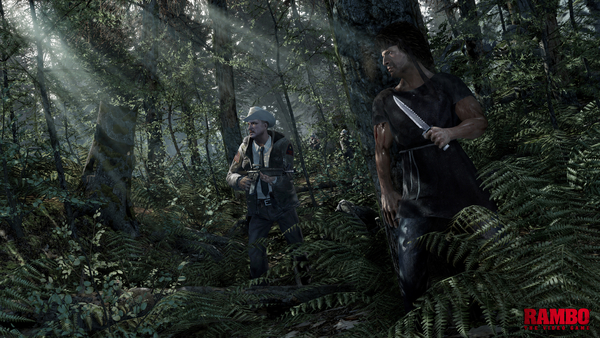 Rambo is one of those classic 80's movie series that can't be remade as a video game with just a lifelike main character – You're going to need blood, fire, explosions, a badass headband and most importantly guns… Lots of guns. Reef Entertainment, the makers of the upcoming Rambo The Video Game, seem to know this better than anybody and their latest trailer proves it, featuring not only some of the most iconic moments from the Rambo franchise, but also enough carnage to make the real Vietnam War look like a puff of smoke.
Giving us a taste of both gameplay and cinematic cutscenes, the newest trailer follows our hero John Rambo storming a Vietnam prisoner of war camp using a variety of increasingly deadly weapons. He starts off by stalking his way through the jungle with just a bow and arrow and the next second he is raising hell on a truck-mounted machine gun turret, ripping through enemy soldiers like a knife through butter. Will this game live up to the name of its legendary source material? We'll just have to wait and see.
Rambo The Video Game is expected to release on Xbox 360, PS3, and PC in early 2014. Pre-order now to get your hands on a limited edition figure of John Rambo himself with your game. Make sure to check out the new trailer below!