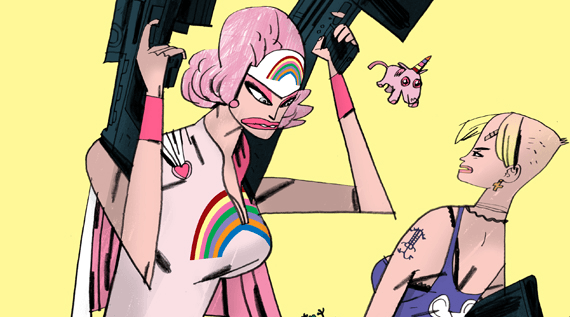 Ah yes, Tank Girl! If you're a fan of this comic than you'll be excited to know that Solid State Tank Girl Issue 4 will be coming out on the 2nd of October, that's only a few days away! From awesome writer Alan Martin and incredible artist Warwick Johnson-Cadwell comes the next issue in the Solid State Tank Girl series "Tank Girl VS. Anti-Tank Girl For All The Marbles!". Anti-Tank Girl, the polar opposite of our favorite girl, intends to kill and replace Tank Girl in the final issue of this series and it will definitely prove to be action-packed, but don't just take it from me, here's the Official Synopsis from Titan Comics:
Spawned in darkness, trained in secret, brewed in a bollock, Anti Tank Girl is the worst nemesis Tank Girl has ever been pitted against! A towering edifice of pink blondeness, she emits uncontrollable rays of rainbows, love and ponies wherever she goes – and is out to replace Tank Girl for good! There's no way that Tank Girl and her gang of misfits are going to stand for THAT. It's the ultimate battle for women's suffrage in the slam-bang, riotously unexpected conclusion to the most insane Tank Girl adventure yet!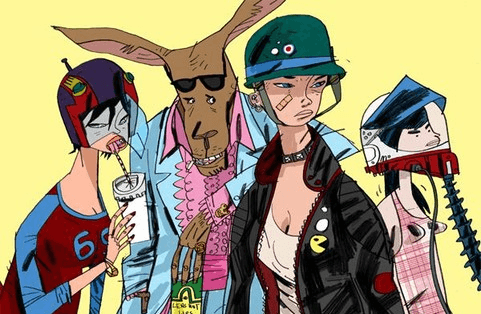 Clearly Solid State Tank girl is set to end in a BANG! Like I mentioned above the conclusion to Solid State Tank Girl (Issue 4) will be released on the 2nd of October and will be available for $3.99 at all good comic book stores. We ask that you please support the official release and if you're not too sure whether or not you're going to like this comic we've been given some pretty cool preview pictures for you all to take a look at, you can see them just below!