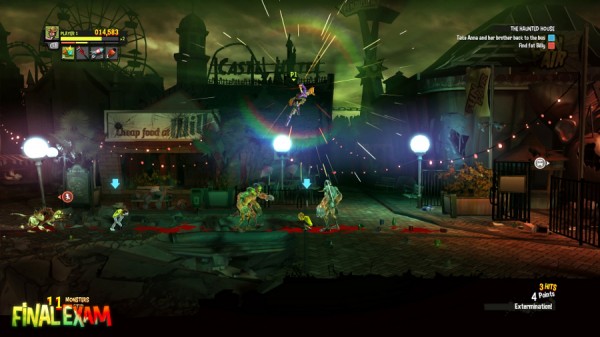 Even though Obscure has been renamed Final Exam, the game is looking just as wild and crazy as ever with the different things players will be bale to do when fighting the undead. Just how much players have to pick from is evidenced by the new overview trailer that developer Mighty Rocket Studio and publisher Focus Home Interactive have released.
Final Exam features four different characters to pick from to the upgrades players want to choose for them as they play and re-play levels combating the hordes of zombies, there is plenty of things to do, especially with up to 4 person coop, with 2 player local. With weapons as simple as a baseball bat, to advanced as a Mighty Rocket Launcher, players will have plenty to wield as their characters level up and get new skills in the 2.5 D sidescroller.
Those wanting to check out what they can expect in Final Exam can watch the trailer for themselves embedded below. Those interested in playing the game will get their chance when it releases November 8th, 2013 for XBLA, PSN, and PC.