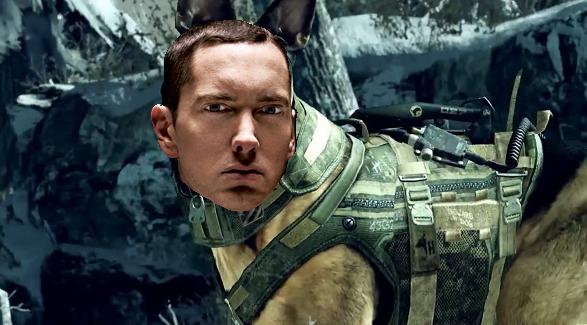 If as if you thought Call of Duty didn't have enough partnerships for the upcoming Ghosts, it has been announced that Eminem, known for his raps laced with current fads and duets with popstars will be teaming with Activision to lay down a track for Call of Duty: Ghosts by the name of "Survival". For fans of the superstar, this is a big deal as you can also snag the new The Marshall Mathers LP 2 with a bonus exclusive track by pre-ordering at EB Games and Gamestop locations worldwide at a price of just $14.99.
Eminem had this to say on joining Ghosts:
"The energy and intensity of 'Survival' really matches Call of Duty: Ghosts," commented Eminem. "I'm excited to continue to be a part of the franchise."
Activision also chimed in on the pairing:
"Call of Duty is the ultimate adrenaline rush. It's the intensity and heart-pounding excitement you feel as the action unfolds. And Eminem embodies this same spirit and captures this in his music," said Tim Ellis, CMO of Activision Publishing, Inc. "The breadth of this program takes our partnership to a new level and will continue to unfold in the months to come. It's going to be a massive day in entertainment with the launch of Call of Duty: Ghosts and Marshall Mathers LP 2 both hitting on November 5th."

The offer is redeemable through Tuesday, November 19th, 15:59PM AEDT and applies to purchases of Call of Duty: Ghosts exclusively at EB Games locations as well as select additional retailers worldwide.
So there you have it. Yet another bonus that should sweeten the deal for Infinity Ward's latest. Does this Eminem record act as a game changer for you, or is this one deal you will pass on. Leave a comment down below and stay tuned for more news on COD in the near future.