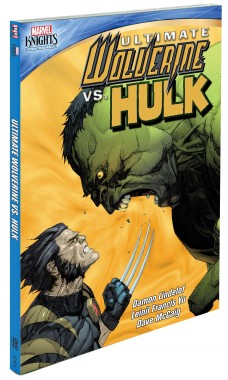 Wolverine and The Hulk are finally getting a much needed collaboration in disc form, as SHOUT! Factory have plans to release a brand new DVD featuring the two famed heroes who are about to clash in a battle for the ages. Ultimate Wolverine vs. Hulk will see Primetime Emmy Award-winning television writer and creator Damon Lindelof (Lost) teaming up with legendary artist Leinil Francis Yu (Secret Invasion) and superstar colorist Dave McCaig for one jam-packed DVD that has been packaged like a comic book with a stunning cover from Yu himself.
Here are some details of the feature as well as the bonus content you can expect:
Synopsis
Dr. Bruce Banner (a.k.a. the Hulk) has been presumed dead since his execution, following his murderous rampage through Manhattan as the Hulk. But when reports start cropping up of an unidentified creature appearing around the globe, Nick Fury begins to get worried. Not because Banner can turn from man to unstoppable monster in seconds, but because Banner's existence is the one secret that can bring down Fury. So Fury turns to the only man he can trust: Wolverine. And he's only too glad to take care of Banner – by any means necessary.

Special Bonus Content:
A retrospective interview with legendary artist Leinil Francis Yu and Marvel Knights Animation's Supervising Producer Kalia Cheng gives fans an exclusive look into the making of ULTIMATE WOLVERINE VS. HULK.
You can pick up Ultimate Wolverine vs. Hulk when it releases on September 10th nationwide at a price set of just $14.97. For a hardcore Marvel fan, this deal is a no-brainer.  Check out some artwork below.