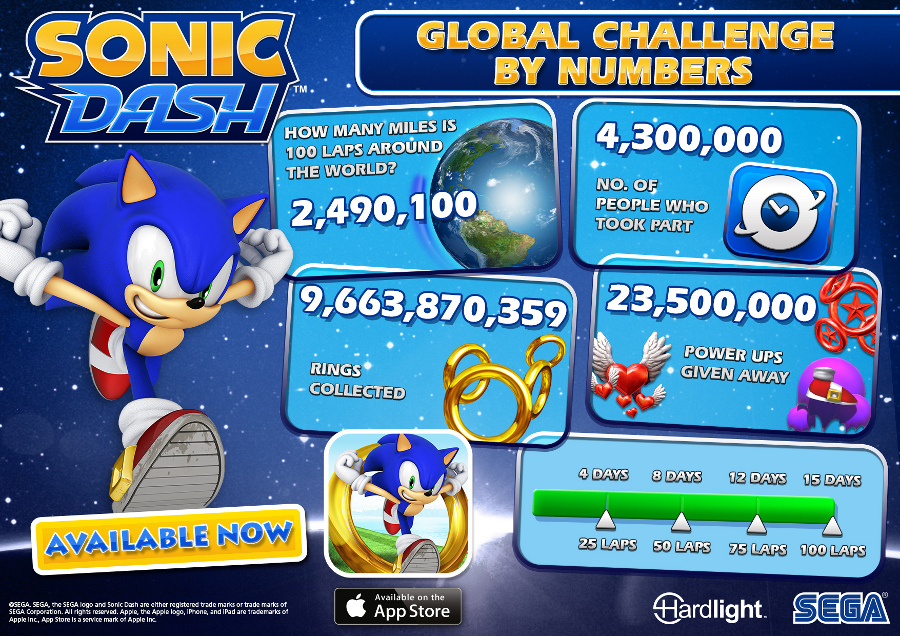 A few weeks ago we wrote about the Global Challenge that developer Hardlight and publisher SEGA had set up in their iOS game Sonic Dash. The goal being for players to reach a total milage equal to 100 laps around the Earth, which if they achieved would reward the entire community with a new, and free, playable character.
Well, players were able to reach the 100 lap mark and in addition to receiving Shadow as a playable character, SEGA and Hardlight have released an infographic showing off all the cool stats that occurred during the challenge, which players can click on above to see a bigger version of. It seems that quite a lot of players helped in the challenge exceeding 4 million and over 9 billion rings were collected. And what more can be said than, great job!
So players wanting to speed through Sonic Dash as Shadow, can get him through the in-game store on iPad and iPhone. Or those that don't have the game yet can download it from iTunes for free.