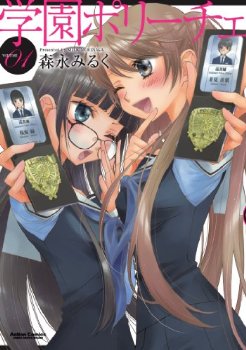 Today Seven Seas Entertainment has announced that they have picked up a new yuri romance manga from the well known Morinaga Milk. The manga series is called Gakuen Polizi and began running in Japan's Futabasha's Comic High! magazine in 2012.
Seven Seas Entertainment has provided the below story synopsis for the manga:
As a child, Sasami Aoba fantasized about becoming a defender of justice, like the magical girls and "Sentai Rangers" she admired on TV. Years have passed and now Sasami has become a police officer herself. Her first assignment is to infiltrate Hanagaki All-Girls High School and ferret out any trouble she may find.

On her first day posing as a student, Sasami is shocked to discover that a supposed book thief at school is actually a fellow undercover police officer, Sakuraba Midori. What's more, Midori insists that she herself is the officer in charge of the school, not Sasami. Will the two girls become rivals, partners…or something more?
Currently Seven Seas is planning on releasing the first volume of Gakuen Polizi in June 2014 with the second volume expected to be released sometime in Fall of 2014.