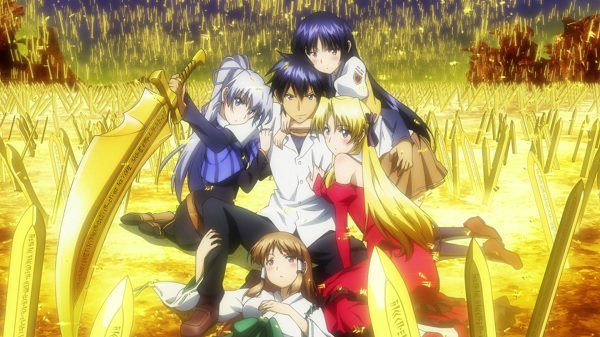 Today Sentai Filmworks announced the English cast for their upcoming release of Campione! which is going to be released on Blu-ray and DVD on October 15th.  The English dub's director will be Jason Grundy while the rest of the cast can be found below:
| | |
| --- | --- |
| Character | Voice Actor |
| Godo Kusanagi | Blake Shepard |
| Erica Blandelli | Monica Rial |
| Yuri Mariya | Hilary Haag |
| Liliana Kranjcar | Genevieve Simmons |
| Ena Seishuin | Carli Mosier |
| Athena | Brittney Karbowski |
| Shizuka Kusanagi | Luci Christian |
| Arianna Hyama Aleardi | Juliet Simmons |
| Verethragna | Leraldo Anzuldua |
| Lucrezia Zora | Maggie Flecknoe |
| Melqart | David Wald |
| Sasha Dejanstahl Voban | John Swasey |
| Anchorwoman | Allison Sumrall |
| Narration | Christopher Ayres |
For those who don't know about the series, Sentai Filmworks has provided the below story description:
Some people suddenly find religion, but for 16 year old Kusanagi Godo, it's that REALLY old time religion that's found him! As the result of defeating the God of War in mortal combat, Godo's stuck with the unwanted position of Campione, or God Slayer, whose duty is to fight Herectical Gods whenever they try to muscle in on the local turf. Not only is this likely to make Godo roadkill on the Highway to Heaven, it's also a job that comes with a lot of other problems. Like how to deal with the fact that his "enhanced status" is attracting a bevy of overly-worshippy female followers. After all, they're just there to aid him in his demi-godly duties, right? So why is it that their leader, the demonically manipulative sword-mistress Erica Brandelli, seems to have such a devilish interest in encouraging some VERY unorthodox activities? Get ready for immortal affairs, heavenly harems and lots of dueling deities taking pious in the face as the ultimate smash, bash and thrash of the Titans rocks both Heaven and Earth in CAMPIONE!