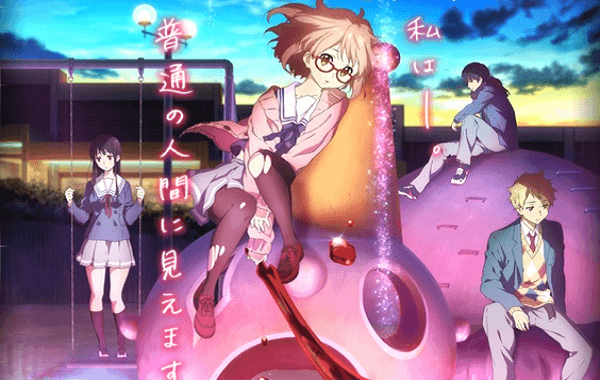 Earlier this year, CapsuleComputers reported about Kyoto Animations plans to adapt the popular light novel Kyokai no Kanata (Beyond the Boundary) into an anime. At that time of writing, no dates were given on when the anime would be released.  KyoAni have recently created the official anime website for the series and announced the anime will be premiered this year in October. Promotional art can be found on the home page as well as a link to the official visual novel site.
The story focuses on high school students Akihito Kanabra, a half demon invulnerable to wounds and Mirai Kuriyama, who is a shunned underworlder able to manipulate blood. Strange things start to occur when Akihito rescues Mirai who was about to jump off the school rooftop. Other characters mentioned on the website are siblings Hirofumi and Mitsuki Nase, who belong to a highly regarded family in the underworld.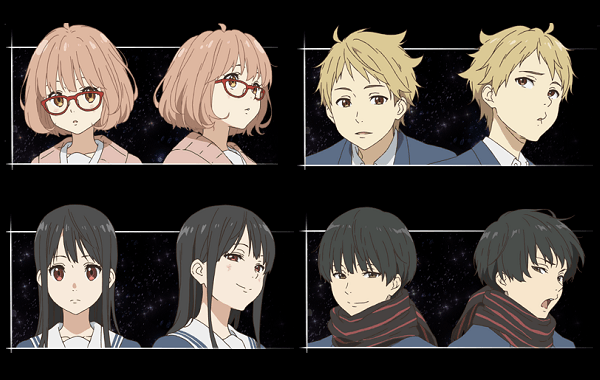 The anime website shares similar content with the visual novel website as both contain plot summaries, character descriptions and even links to twitter icons which can be used on your own profile. The anime website also has cast and crew information and a glossary section for those that don't understand the terminology used in the series.
The LN was written by Nagomu Torii and Illustrated by Chise Kamoi, the series received an honorable mention in the Kyoto Animation Award Competition in 2011 and has had two volumes published. The anime will be directed by Taichi Ishidate, who was involved in many KyoAni projects including Free, Hyouka and Clannad.