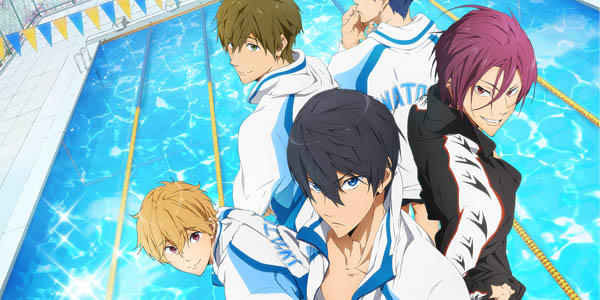 Kyoto Animation's Free!, their new effort of cute guys doing cute things rather than the usual girls has been outlined in detail on their official site.
The plot centres on Haruka Nanase, a guy who has always swum for most of his life. Him and his elementary school's swimming club members, Makoto Tachibana, Nagisa Hazuki and Rin Matsuoka, won a swimming competition before splitting up as they grew older.
During high school Rin confronts Haruka (they really went for unisex names didn't they?) to a swimming challenge, suddenly reuniting the two. Before long Makoto and Nagisa are gathered along with a new member, Rei Ryugazaki, to form the Iwatobi High School Swimming Club. The story theme is one of youth and friendship built upon swimming.
Haruka Nanase (voiced by Nobunaga Shimazaki) is in 11th grade who has a powerfully quiet style to his swimming, in particular freestyle.
Makoto Tachibana (voiced by Tatsuhisa Suzuki) is Haruka's best friend so knows him best while in the same grade. His personality is described as kind but easily frightened, fulfilling that soft character archetype.
Rin Matsuoka (voiced by Mamoru Miyano) is Haruka's rival in the same grade. He travelled overseas to improve his swimming ability, but returned a changed person often baffling those who knew him.
Nagisa Hazuki (voiced by Tsubasa Yonaga) is a strong 10th grader who is determined and brave. He is a huge fan of Haruka and hopes to swim with him again.
Rei Ryugasaki (voiced by Daisuke Hirakawa) is Nagisa's classmate and is a former member of the track team but had a change of heart, joining the swimming club instead. He's described as handsome and intelligent and easily fooled by Rin.
Led by female director Hiroko Utsumi, Free! looks to provide plenty of fan service for the girls. The anime is due to air July this year, in time for the summer season.