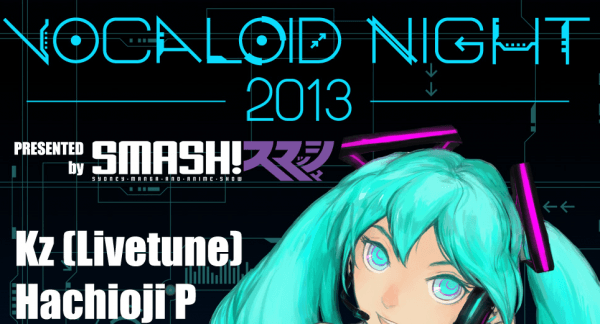 People looking to attend the Vocaloid Night event over in Sydney, hosted by SMASH!, might need to get a move on with the purchasing of their tickets online. Event pre-sale tickets close soon, meaning that they will no longer be able to purchase tickets online to the event. The pre-sale ends on the 5th of August, which is a Monday.
What's interesting is that anyone that purchases a pre-sale ticket is automatically eligible for entry into a secret drawing for a signed copy of Hachioji P's latest album, ViViD, as well as many signed posters from both kz and Hachioji P.
To quote the press release:
Quick, purchase your tickets online before pre-sales close for a chance to win one of 2 Signed copies of Hachioji P's new Album ViViD WAVE, and many signed posters by both kz(livetune) and Hachioji P! All pre-sale ticket holders automatically go into the draw with winners announced at the door. Attendees receive a complimentary glow stick but numbers are limited so get in early!

Tickets are also available at the Vocaloid Night booth at SMASH along with fresh and limited merchandise straight from Japan. Official goods not available online, come and visit our booth and grab a chance to see the DJ's in person! Limited signings will be available on the day, please come to the booth for more details. All goods must be purchased from the booth in order to receive a signature. While stocks last.
So don't forget to grab your tickets online at the official site.