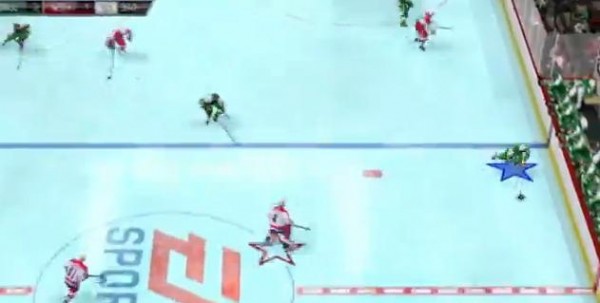 Finally, a sports game doing something different. I am of course speaking of the upcoming NHL 14, which will now include NHL 94 Anniversary Mode. Today EA Sports made the announcement that the hockey favorite would include the bonus mode, which will be a modernized version of the classic that hit shelves 20 years ago.
Details are as follows:
NHL 94 Anniversary Mode takes uses classic button controls to deliver big goals, bigger hits and spectacular speed, taking fun to a whole new level. The mode also offers nods to its hockey video gaming roots through a retro presentation style including blue ice, classic star-shaped player indicators, organ music and a few more surprises. Recognized as one of the most popular games of its era and the title that put the NHL videogame franchise on the map, NHL 94 Anniversary Mode gives another generation of players a new way to play old school hockey.
I am all for this blast of EA flavored nostalgia, and you can watch the very excited trailer below speak for the mode, and get a look at the crazy gameplay that will be included with this sweet little extra down below in the brand new trailer. NHL 14 will release September 10th.