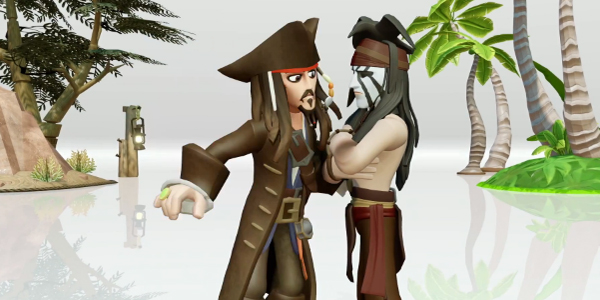 Johnny Depp is quickly becoming a mainstay of live-action Disney films. First playing Captain Jack Sparrow in the Pirates of the Caribbean series, and now in the role of Tonto from The Lone Ranger. His lovable antics and the life he brings to these characters have earned them both spots in Disney Infinity's line-up of Play Sets available at launch.
Poking fun at itself in a very meta-way, Disney have put up a new trailer for Disney Infinity. This one, as I'm sure you've guessed by  now (from my oh so witty title) has the two Depp-played characters meeting each other in the game's Toy Box Mode. Although they are only toys, their gestures and facial expressions are perfectly recreated for the game.
The little trailer will show before screenings of The Lone Ranger at theaters, but you can check it out below. Disney Infinity is set for release globally on August 18th. If you need your fill of Lone Ranger before then, check out the iOS game that Disney released today. For all the Disney Infinity news as it becomes available, stay tuned to Capsule Computers.