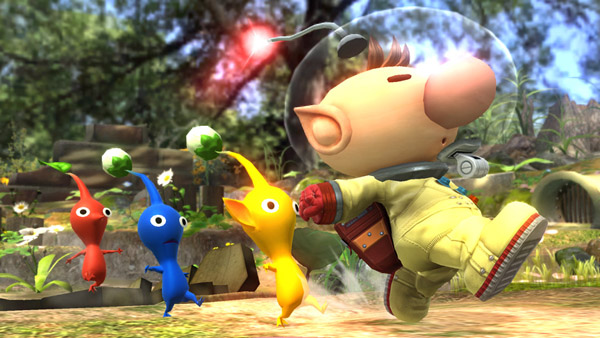 Another Member of the Smash Bros. alumni has managed to reach down, dig deep and pull up the strength he needs to join the fray once again. That's right, Captain Olimar of Pikmin fame has once again landed his ship, plucked a few worthy comrades out of the ground and is ready for carnage in Super Smash Bros. WiiU and Super Smash Bros. 3DS … Ok maybe not carnage, but he is still ready to fight.
Olimar and his ground-dwelling Pikmin friends look like they retain many of the same skills and abilities they had in Super Smash Bros. Brawl. Olimar's moves are drawn heavily from the Pikmin games, and have him plucking the adorable minions out of the ground and then throwing them at enemies, using them as melee weapons, or by making a chain out of them (Really when you think about it, he isn't exactly kind to these little creatures).
With Captain Olimar joining the battle, the roster of playable characters for Super Smash Bros. currently stands at 13. Returning combatants; Mario, Donkey Kong, Pikachu, Kirby, Link, Samus, Fox, Bowser, Pit and now Olimar are being joined by newcomers; Villager (from Animal Crossing), Mega Man and the Wii Fit Trainer. While the roster is by no means complete, it is already shaping up to be a stellar lineup for Nintendo's beloved fighting franchise.
Super Smash Bros. for WiiU and 3DS isn't set to launch for quite a while yet, but we will be providing you with weekly updates on the game, so for all the Super Smash Bros. news as it becomes available, stay tuned to Capsule Computers