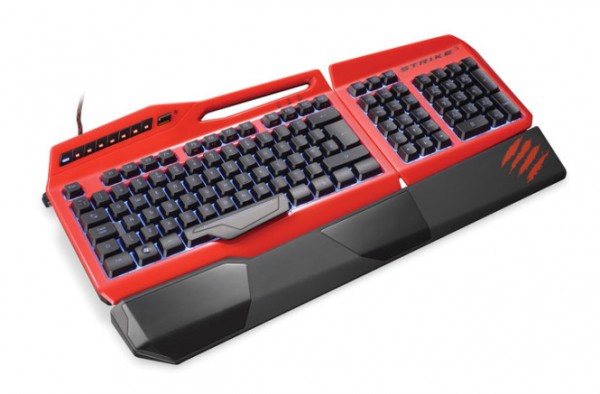 Mad Catz Interactive has chosen E3 to unveil its new professional gaming keyboard, the S.T.R.I.K.E. 3 for Windows PC expected in the fall of this year. The layout of the keyboard has one group in mind: the competitive players of professional gaming, and the design choices reflect just that with responsive keys boasting a unique membrane that offers increased response without the need to "bottom out" the keys when playing and eliminates the annoying clack that some keyboards produce.
"Our range of S.T.R.I.K.E. keyboards has captured the imagination of passionate gamers and we are pleased to expand the range with the S.T.R.I.K.E. 3.",  says President and Chief Executive Officer Darren Richardson, who had this to say about the product; "The S.T.R.I.K.E. 3 demonstrates our commitment to providing gamers with a product range that meets their budgets and exceeds their expectations,"
Some of the features to be excited about include the RGB backlit keyboard with upwards of sixteen million different customizable colors for a truly unique look for any gamer when combined with the three available colors: gloss white, gloss black, and gloss red. Also included is a removable wrist rest, full media controls as well as twelve macro keys, three operation modes and thirty-six programmable buttons round off this piece of gaming bliss.