Sony Computer Australia (SCE Aust.) have just confirmed the release date for Media Molecule's first venture outside of the Little Big Planet franchise in Tearaway – a PlayStation Vita exclusive adventure title that you will be able to play on October 23rd this year.
The game will be available for purchase in-stores and through the PSN store. Tearaway promises to make use of all of the Vita's unique features, allowing you to reach up into the world using the rear-touch panel and see your fingertips appear inside the game, solve puzzles using the power of touch, or literally breathe new life into the papercraft world as you journey through its vibrant landscape to aid your chosen messenger – iota or atoi (male and female counterparts) – in delivering a very special message.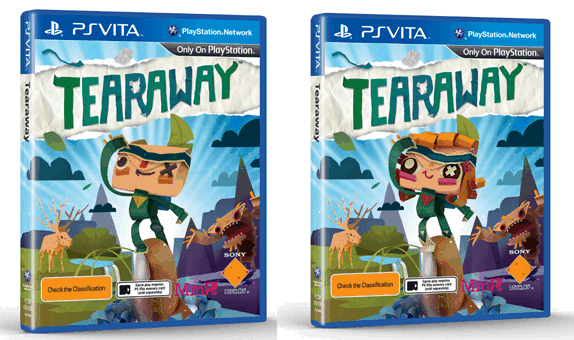 You may notice the box art above shows both characters – individually – front and center. This is because the cover will be reversible as Media Molecule didn't want to have to make a choice one way or the other (imagine the sexism debates!). If you'd like to see the game in action, check out the previously unveiled 'Sogport' trailer.