The details are all coming together now on Far Cry 3: Blood Dragon. The Xbox Live Marketplace listing for the game has been updated with the release date, an expanded overview and clarification on the format of the release.
First off, here is the overview:
Far Cry 3: Blood Dragon is THE Kick-Ass Cyber Shooter taking place on a bizarre open-world island crawling with evil. Welcome to an 80's VHS vision of the future. The year is 2007 and you are Sargent Rex Colt, a Mark IV Cyber Commando who's fighting against a cyborg army gone rogue. Your mission: get the girl, kill the baddies, and save the world. Experience every cliché of a VHS era vision of a nuclear future, where cyborgs, blood dragons, mutants, and Michael Biehn (Terminator, Aliens, Navy Seals) collide. Playing Far Cry 3: Blood Dragon doesn't require a copy of Far Cry 3.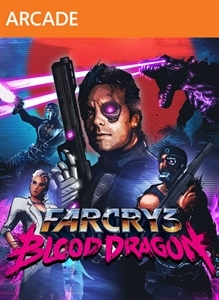 That single paragraph is full of so much information…
The game will remain an open-world experience

Sounds like "Blood Dragon" is literal…there will be blood dragons in the game!
Michael Biehn of Terminator fame will feature (and it seems that central figure on the cover was him all along)
It is a standalone Arcade title
Now, if you visit the listing itself, you will see an R 18+ rating attached to the title, and if you click through to the second Overview page, you will also see a release date of May 1st. Seems like this VHS future is nearer than first thought.
Also check out the first leaked screenshots from the retro cyber-shooter. How awesome is this?! Are you guys as excited as we are?