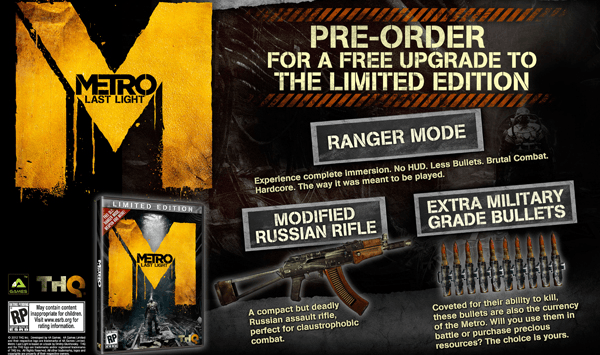 It's becoming something of a habit for games to offer special bonuses for people who pick up launch copies of the game and Metro: Last Light will be no exception. Today THQ announced that anyone who picks up a copy of Metro: Last Light once it has been released will be given the "Limited Edition" version of the game which comes with some bonus Ranger Mode DLC and a "Ranger" loadout including a fancier gun and more high-grade ammo.
In Metro 2033, Ranger Mode gave players less ammo and players received more damage from enemies, making the game more about survival than other difficulty settings. It is also worth noting that if you pre-order the game on the PlayStation 3 (via the PlayStation Store only) you will be given a free digital copy of Homefront and a Metro Last Light PSN Theme.
If you want to learn more about what Metro Last Light has to offer, we recently previewed the most recent build of the game and had an interview with the communications manager, Jeremy Greiner.