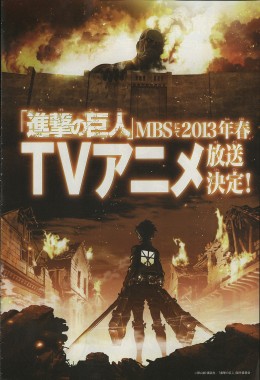 Fans of Attack on Titan have gotten good news after good news this week.
First of all the long awaited anime adaptation of the popular manga series was announced and now the official trailer for the anime has been released and it looks absolutely glorious.
The trailer which can be seen below features a variety of scenes from the series but most predominantly featured is the original titan invasion and Eren Jaeger's battles with them, which looks beautifully animated I must say.
The Attack on Titan anime is set for release in Spring 2013. Yuuki Kaji has been tapped to play lead role of Eren Jaegar.
Be sure to check out the trailer below and let us know your thoughts on the Attack of Titan anime series in the comments section.