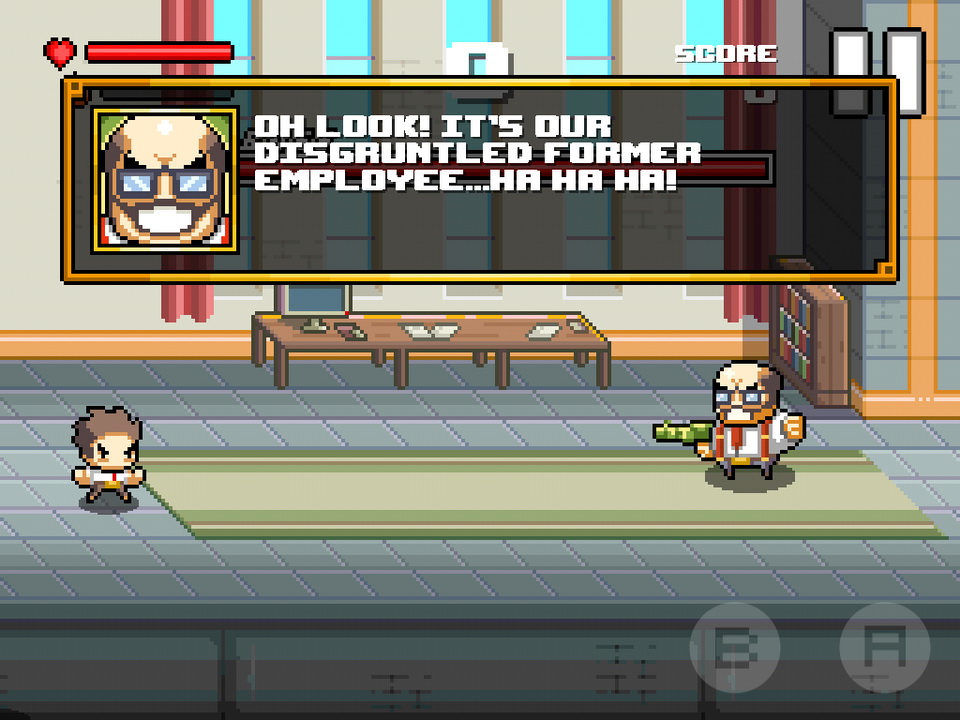 Welcome back for this week's iOS Game Suggestions. If you missed or are new to the suggestions, click on the link below and check what cool games you should be picking up for your iOS along with the introduction and disclaimer on how the suggestions work. (suggestions 1 has the disclaimer and how it all works)
MasterAbbott's iOS Game Suggestions
A great week on iTunes, as always it started slow and but ended with a bang! As always there certainly is a few must buy games this week in all departments,FREE, 99c and over 99c. This week i've suggested a total of 23 great quality titles. Make sure you check them all especially Dragon Collection, Ninja Toss, Beatdown, Flea Symphony, Gear Jack, Real Boxing  just to name a few.
Break down below :
9 –FREE Games
10 – $0.99c Games
4 – Over $0.99c Games
As always for this week's suggestions are all new titles that you should take a look at and consider spending your hard earned iTunes cash / time on.  Well the Free games just below certainly should all be given a shot as they won't cost you anything!
For The Cheapskates – FREE GAMES
DRAGON COLLECTION – Price : FREE – Publisher –

KONAMI

 (The war between the Old Gods brought chaos to Dragon World. An alliance of Dragons, Humans, and the New Gods ended the tyranny of the Old Gods and order was restored. After a century of peace, evil has returned. The Dragons must be awoken again by a new hero. Immerse yourself into the exciting world of DRAGON COLLECTION and become the next Dragon Master!

) runs on iPad & iPhone.

GET IT NOW FOR FREE

 
Pocket Festival – Price : FREE – Publisher –

Chillingo

 (Design and manage your own Music Festival! Book the best bands and attract the biggest crowds and grow your festival into the biggest, loudest, most rockin' music festival ever! Are you ready to rock? Start building the most awesome Festival

) runs on iPad & iPhone.

GET IT NOW FOR FREE

 
Ninja Toss – Price : FREE – Publisher –

Bulkypix

 (Launch Nyam, the fat Ninja, from a catapult as far as you can through this funny and colorfull universe Avoid traps, destroy donough collect rice and learn ancestral ninja skills to defeat your friends in this crazy high score competition in a pure Ninja style.

) runs on iPad & iPhone.

GET IT NOW FOR FREE

 
Rubber Tacos – Amazing Family Adventure – Price : FREE – Publisher –

Zynga

 (Help the Taco family recover their stolen peppers by the crazy Piñata through over 120 colorful and delicious levels! Collect all the peppers by performing amazing tricks using the family's super powers!Create your very own levels and challenge your friends!

) runs on iPad & iPhone.

GET IT NOW FOR FREE

 
Coaster Crazy – Price : FREE – Publisher –

Frontier Developments

 (Simply trace your finger over the touchscreen to build and tweak any coaster you can imagine, in glorious 3D. Its so easy to do that anyone can build them, ride them, crash them – tall, short, long and fast; modern, wooden & crazy. The physics simulation is easy and fun to use, yet rewards each bit of care put into improving your coasters with ever higher scores.

) runs on iPad & iPhone.

GET IT NOW FOR FREE

 

QatQi – Price : FREE – Publisher – Zworkbench (Lose yourself in the world of QatQi (pronounced "cat-key"), a gorgeous and meticulously crafted word game that pleases the senses and tests the limits of your lexicon. Frustrated with the lack of innovation in other word games, indie designer Chris Garrett developed QatQi to freshen up the genre with never-before-seen gameplay, an elegant interface, dazzling art, and otherworldly music that changes as you play. In a word, it's INSPIRED (161 points.)) on iPad & iPhone. GET IT NOW FOR FREE

 
Animal Legends – Price : FREE – Publisher –

Appy Entertainment

 (Quest with friends for loot and glory in Animal Legends! The evil Vampire Frog Skulk has cast a blight upon the land and only you and your friends can defeat him! Create your hero from one of three animal types, each with their own advantages and skill paths — assemble your party of steadfast rhino warriors, nimble raccoon rogues, and crafty owl wizards!

) runs on iPad & iPhone.

GET IT NOW FOR FREE

 

Monster Hospital – Price : FREE – Publisher – Beeline Intertactive (Doctor! You're needed in the emergency room STAT! You've just been put in charge of the busiest hospital in town, and it's up to you to make sure it doesn't flat-line. Keep your finger on the pulse of hospital affairs by moving monsters through the stages of triage, diagnosis, and treatment as quickly as you can. As patients get back on their feet, you can hire them as staff while you grow your facilities and add new equipment. Find out what makes this game so monstrously infectious!) on iPhone & iPad. GET IT NOW FOR FREE

 

Candy Crush Saga – Price : FREE – Publisher – King.com Limited (The super hit game Candy Crush Saga is now available for iPhone, iPad and iPod Touch! Join Tiffi and Mr. Toffee in their epic adventure through a world full of candy. Take on this deliciously sweet saga alone or play with friends to see who can get the highest score!) on iPhone & iPad. GET IT NOW FOR FREE
For The Bargain Hunters – 99c Games
 

MASTERABBOTT'S PICK OF THE WEEK

Beatdown! – Price : $0.99 – Publisher – Ravenous Games (Get ready for the best beat-em up to hit the App Store! Wrongfully dismissed from his job, the hero is on a war path to take down anyone who gets in his way of giving the CEO a much needed beatdown! Inspired by the classic beat-em up genre; get ready for BEATDOWN!) runs on iPhone & iPad. BUY NOW

 

Lazy Raiders – Price : $0.99 – Publisher – Namco Networks America (Dr. Diggabone is getting too old for archaeological digs—or so he says. But truth be told, he's just plain lazy! Send the Doctor on a gravity-defying quest through 60 mazes by spinning and flipping the world around. Beware of those thieves and traps, though. Without any challenge, you'll just grow lazy. And we wouldn't want that, would we?) runs on iPhone & iPad. BUY NOW

 

Shards Of Time – Price : $0.99 – Publisher – G5 Entertainment (What would you do, if you could control magic? After her beloved aunt Matilda becomes ill, Lisa learns that Matilda is one of the "Keepers", a hugely secret group that controls magic.  Travel in time through the Wild West, the Magic East and present China, solving immersive puzzles and overcoming unbelievable challenges. Find and assemble the powerful amulet to fight Chaos and heal Lisa's dying aunt.) runs on iPad & iPhone. BUY NOW

 

Flea Symphony – Price : $0.99 – Publisher – The Odd Gentlemen/Majesco Entertainment (Conduct Maestro Piccolo's FLEA SYMPHONY and save their beloved music shop from going out of business. BOUNCE the fleas on drums, LAUNCH them off guitar strings, and SHOOT them out of tuba cannons as you create the perfect musical piece to keep customers coming back. To save their shop and their home, Maestro Piccolo and his Flea Symphony must put on the show of a lifetime!) runs on iPhone & iPad. BUY NOW

 

Doodle Truck 2 – Price : $0.99 – Publisher – Trinity Interactive Limited (Everyone's favorite trucking series rolls back into the App Store! Day or night, rain or shine, real truckers are always ready to truck, so pick up your load and deliver the goods! Just remember to buckle up, because it's gonna be one wild ride!) runs on iPhone & iPad. BUY NOW

 

Munchsters – Price : $0.99 – Publisher – FPO Projects (When the sun goes down and the lights retreat, silly little Munchsters come out to eat. From behind the dresser and under the bed, they reach for your candy and won't stop till they're fed. To keep your treats safe will require a fight, by poking their eyes all through the night.) runs on iPhone & iPad. BUY NOW

 
Gear Jack – Price : $0.99 – Publisher –

Forrest Moon/Josh Presseisen

 (Jack embarked on a journey in the W-Hale automated Starship. It got too close to a black hole, and was struck by an electromagnetic shock wave that made the entire crew and ship itself go crazy!
Jack is the only robot unaffected by this and he is also the only one that can save the ship that is slowly floating inside the black hole. Jack will need to avoid many insidious traps and dangers to get to the end to save the ship from being destroyed!) runs on iPhone & iPad.

BUY NOW

 

Sleepwalker's Journey – Price : $0.99 – Publisher – 11bit Studios (Meet drowsy Moonboy. Blown out of bed by a big lunar sneeze, he sleepwalks through dreams. Moonboy needs your help to reach his bed. Guide him safely through various traps, clear obstructions from his path, and shift his surroundings to create a safe passage to the cozy bed. Solve environment puzzles in a fantasy world, find multiple pathways through the game, and collect stars and crescents to experience the beauty of Sleepwalker's Journey fairytale atmosphere.) runs on iPhone & iPad. BUY NOW 

 
Help Volty  – Price : $0.99 – Publisher –

Tvndra Producties

 (The wanderer came upon a dark town. There he met a silent merchant with a peculiar wooden box. Inside he had built a cruel game with gears, knobs, wires… and Volty.) runs on iPhone & iPad.

BUY NOW

 
Mini Jailbreaker  – Price : $0.99 – Publisher –

Triniti Interactive Limited

 (No prison can hold YOU… for LONG!
BUST OUT of THE CLINK and RUN for YOUR LIFE in the GREATEST ESCAPE of all TIME!  Who needs shoes when you've got guts? Run and jump for your life in an old-school mad dash where every second is more intense than the last!) runs on iPhone & iPad.

BUY NOW
For The Millionaires – All games over $0.99
MASTERABBOTT'S PICK OF THE WEEK

Real Boxing – Price : $3.99  – Publisher – Vivid Games (Real Boxing™ brings you the most exhilarating, no holds barred fighting action ever seen on the App Store, taking you closer to the action than you ever thought possible. Combining eye-popping ultra-realistic graphics with the revolutionary V-Motion Gesture Control System, Real Boxing lets you control your fighter with real punches through your device's camera.) runs on iPhone & iPad. BUY NOW

 
Verticus – Price : $1.99 – Publisher –

Moonshark

 (You are Verticus™, a superhero equipped with a high tech, heat-resistant jump suit who must prevent the Earth's destruction at the hands of an evil alien race known as The Obliterators!

) runs on iPad.

BUY NOW

 
Sky Gamblers: Air Supremacy – Price : $2.99 – Publisher –

Namco Networks America

 (FORGET EVERYTHING ELSE! THIS IS THE ULTIMATE AIR COMBAT GAME! With an extensive single player campaign and revolutionary multiplayer modes, the non-stop action will keep you at the edge of your seat!) runs iPad & iPhone. BUY NOW
 

Lili – Price : $2.99  – Publisher – BitMonsters (Lili is a quirky adventure RPG hybrid with stunning visuals, silky-smooth graphics and a cinematic storyline. Tuned for new devices, Lili is one of the most visually-stunning games available on iOS. On the mysterious island of Geos, Lili will meet a number of hilarious locals, explore beautiful environments, solve some puzzles, and even challenge an oppressive regime or two along her way. Lili uses an amusing "non-combat" system for dealing with enemies, and sorts out a few personal issues along the way.) runs on iPhone & iPad. BUY NOW
There you have it folks, these games should keep you busy for quite some time, well till next week at least. I'll be back next week for another dose of iOS goodness, in the meantime if anyone would also like to suggest their own suggestions, please feel free to share them in the comments section below or in the iOS forum section on the site here.
Remember kids, Play Hard Or Don't Play At All!