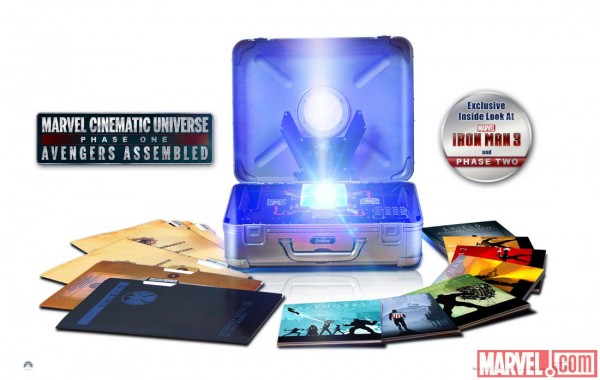 After being delayed back in September because of a lawsuit with Rimowa GmbH, Marvel has finally updated us all on the new, slightly more generic look for the Marvel Cinematic Universe: Phase One – Avengers Assembled Blu-ray box-set. Not only that, but the now April-bound box-set will come with a few additionally enticing features.
Pictures released by Marvel.com show a more plain briefcase design, except for the front face which is inspired by Tony Stark's 'Arc Reactor' palladium core (Can be seen clearly in the image below). The mammoth set is planned to include all the previously announced bonus materials, but Marvel felt they needed to sweeten the deal to make up for the lengthy delay. And so, they have announced that the box-set will now come with previews of each film in Marvel Cinematic Universe: Phase Two, which includes the Iron Man 3, Thor: The Dark World, Captain America: The Winter Soldier, Ant-Man, Guardians of the Galaxy and The Avengers 2 films.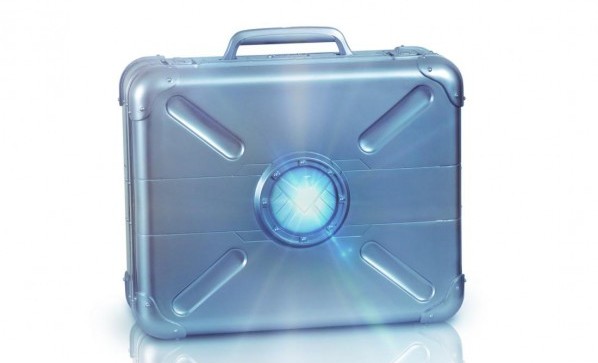 Depending on the film – and considering their varied release dates and production schedules – these previews may consist of "footage, concept art, and a few new surprises. Also, look for a nod to Iron Man 3 in the Tony Stark S.H.I.E.L.D. file in the box set", says Marvel Studios President Kevin Feige . There'll also be never before released deleted scenes and footage contained in the set, including an alternate ending to Thor. Feige told EW, "We went back to the editor's assembly of each film and discovered some rare moments that dropped out of the films early on and had not been released on prior discs. We spent an embarrassing amount of time compiling the 'Shield Files' included in the box set to be sure that each character's file was full of great, movie-accurate props and Easter eggs, which help tie all of the Phase one [Marvel Comics Universe] films together."
For anyone who pre-ordered the originally planned set, will these inclusions make up for the near 7 month delay? Let us know in the comments below!