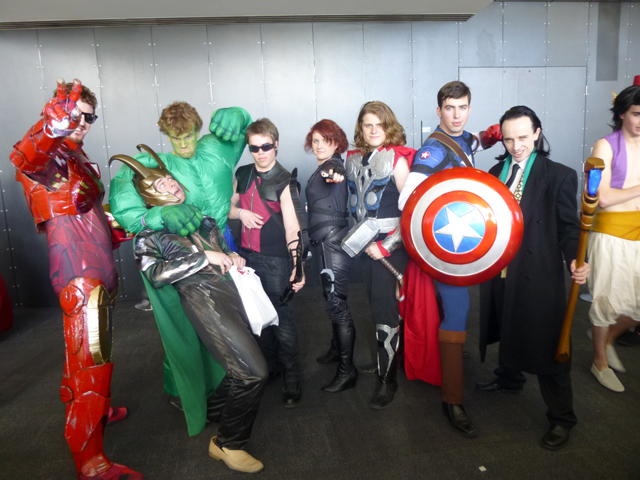 A huge part of conventions is the incredible effort fans go to recreate themselves as their favourite characters, and Oz Comic Con was no different. There was some truly inspired cosplay work to see, both around the show floor and in the parade and competition.
Melbourne has a massive, very active community of Japanese culture and anime fans, and a lot of costumes fit that theme. I may not have always been able to identify specific anime characters, but there's no mistaking the style.
Of course a convention with a comics-theme isn't complete without ample superheroes, and costumes in this group fell squarely into three, evenly-sized camps: Batman (no doubt because of the hype surrounding The Dark Knight Rises), The Avengers (obviously due to the recent movie), and Other. As a result, there were heaps of Batmen, Poison Ivys, Jokers, Harley Quinns, Iron Men, Thors, Hulks, Captain Americas, etc etc. We did spot the odd Superman, Spiderman and X-Men, but nowhere near as often as those most recently in the public's mind. Perhaps next year, after the release of Man of Steel, there will be an increase in Superman interest.
Characters from other pop culture franchises popped up as well. Adventure Time was particularly popular this year, with no less than three Finns with plush Jakes, and an Ice King amongst them. Star Wars and Star Trek costumes are ever-present, with a few Storm Troopers and a Spock or two. And of course, various generations of Dr Who's graced the floor.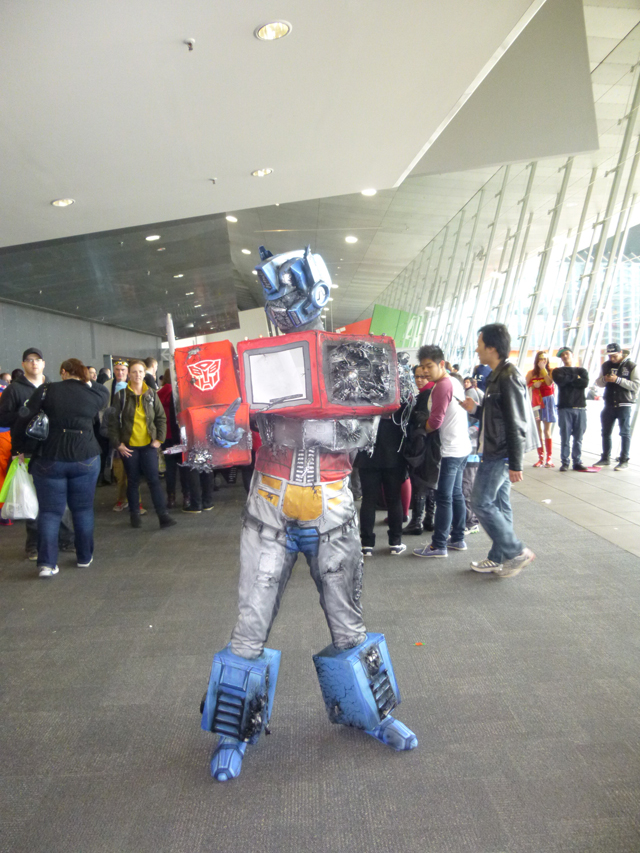 The standouts for me included a gender-uncertain Jack Sparrow, who was a dead ringer for the character; Raptor Jesus, of Internet meme fame; MAD Magazine's Spy vs Spy characters; an eight-foot tall Jack Skellington, from The Nightmare Before Christmas; Alex Mercer from Prototype; a highly-detailed Alien, which I missed myself but was shown photos of later; and of course, Zombie Optimus Prime, a incredible recreation of the Transformer, partially damaged.
The cosplay parade on Saturday afternoon was a great opportunity to see the cream of the crop. Entrants were plucked from the show floor as a best-of, and trooped across the stage one by one, giving the crowd enough time to snap a few photos.
Second place (receiving a voucher for Spotlight to aid future cosplay endeavours) went to a detailed rendition of Batman villain Scarecrow.
The grand prize, a pack for six people to experience the amazing IRL Shooter when it launches in October (check that out here), rightly went to Zombie Optimus Prime.
The crazy crafting skills of these talented cosplayers really demonstrate what these conventions are all about: passionate fans doing what they love, and getting the recognition their work deserves.
Photos taken by Sian Horrocks.
For more panels, interviews and impressions, check out the rest of our coverage of Oz Comic Con.