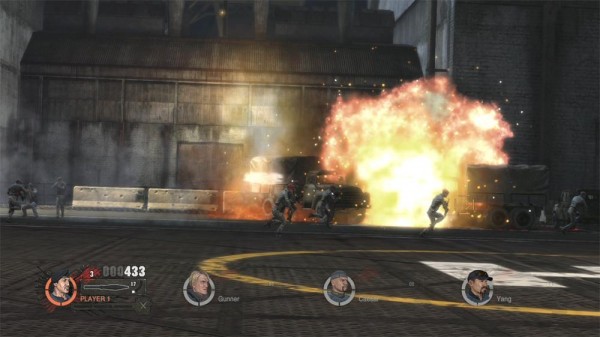 Remember when the Expendables 2 being a video game became a thing? Well, it's quite an interesting thing, as new details have proved Ubi have dealt some love in what could be a highly enjoyable digital release this summer. Instead of going for some big budget fare that licensed titles usually flounder under, this romp will be an arcadey one, packing in online and local multiplayer that features Barney Ross, Gunner Jensen, Hale Caesar and Yin Yang from the flick.
Here is a bit more insight on the narrative involved as well, for those of you who are stroking their whiskers in curiosity:
Building on the universe created in the high-octane, star-studded movies, The Expendables 2 Videogame invites gamers on an adventure to rescue an extremely valuable, kidnapped billionaire. It's all business, until all hell breaks loose and the explosive mix of testosterone and kerosene detonates in a massive fireball that never lets up. The adventure concludes right where the new movie begins, creating a continuous story experience for fans of the Expendables' hard-boiled brand of action.
New screenshots have also been released, and aside from the exotic locales, the first thing you will notice is that this title will include a generous amount of explosions and vehicles, with the more multiplayer tuned camera angles in tow. As of now, there is no official release date for the game, but you can expect it out sometime near August 17th, which is when Expendables 2 lands in theaters. Glare at those awesome screens below, and we will keep you updated as more news comes in for this kick-ass title that will blow up on the XBLA, PSN, and PC.