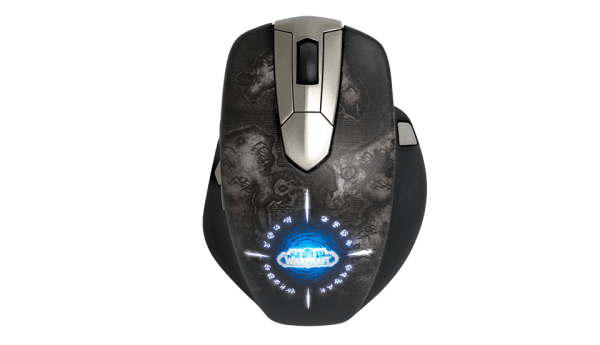 Steelseries saved the major announcements for E3 this year. Alongside of the previously announced Sensei MLG edition, Steelseries has teamed up with Counter Strike: Global Offensive, DOTA 2, Guild Wars 2, and World of Warcraft for a total of 12 new products.
For Guild Wars 2, Steelseries has announced a new variation of their on ear Flux headset. White bodied with red padding and red logos, the Guild Wars 2 Gaming Headset features an in-line microphone on the cord, packs up easily for travel, and is priced at $99.99 / €99.99. The Guild Wars 2 Gaming Mouse is priced at $69.99 / €69.99 and has a visual design from ArenaNet with red illumination, seven macroable buttons, and a 5670 CPI laser sensor. Going hand in hand with the mouse are three different QcK Mouspads priced at $14.99 / €14.99. Available with the images of Logan, Eir, or the Guild Wars 2 logo, the QcK Mousepads all feature non slip rubber bases, and a texture optimized for a smooth mousing experience. The Guild Wars 2 branded keyboard was also announced, but no details were given beyond a later in the year release date.
In the Valve domain, Steelseries is releasing the DOTA 2 Limited Edition Mouse Bundle featuring a branded grey and orange Kana mouse, a mid sized ambidextrous mouse with a 3200 CPI optical sensor, six buttons, and smooth UPE mouse feet. Also included in the bundle is a QcK Mini DOTA 2 cloth mouse pad measuring 9.8 inches by 8.3 inches and comes with an exclusive in game item, Kantusa the Script Sword. Players will be able to take this bundle home for $64.99 / €64.99. Counter Strike: Global Offensive is getting some love too with the a Steelseries Siberia v2 Headset in a woodland camouflage pattern. Priced at $99.99 / €99.99 MSRP, the closed headset features in-line controls, leather ear cushions, 50mm drivers, and a pull out microphone when you need to scream out orders to your team. In addition CS:GO is also getting a branded Kana mouse and QcK Mousepad. These will be sold seperately at $59.99 / €59.99 and $14.99 / €14.99 respectively.
Finally, Steelseries is releasing a brand new product for World of Warcraft. They have taken their wildly popular World of Warcraft mice and chopped off the cable and added a wireless transmitter. Designed by Blizzard, the World of Warcraft Wireless Mouse is steel grey and blue and sports the WoW logo and the map of Azeroth. The mouse has 11 programmable buttons with a drag and drop software that will allow easy macro writing with 130 pre made game commands and the custom macro creation. Running out of battery in the middle of your raid? No problem, switch from the 2.4GHz wireless transmitter to a USB cable to charge and continue mousing as normal. Not a WoW player, don't worry, the WoW Wireless Mouse is a perfect companion for you, no matter what game you play. The mouse is slated for a Q3 2012 release for $129.99 / €129.99.