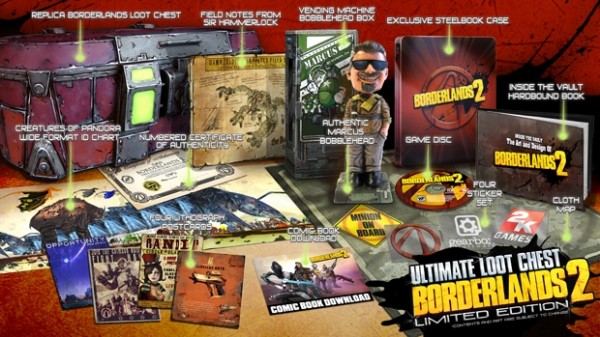 Fans of a video game series will sometimes be willing to shell out a ton of cash to try and receive all of the little goodies that a video game publisher releases in their special editions and Borderlands 2 fans will have two flavors to choose from when the game is released on September 18th in North America and September 21st in Australia.
The two special editions revealed today are the Deluxe Vault Hunter's Collector's Edition which will run you $100 in the US or $120 in Australia and provide you with a Marcus Kincaid bobblehead, an art book, a sticker set, Pandora map, digital comic download code and some bonus in-game content.
Those with a bit more money to spend can drop a cool $150 in the US and $160 for those in Australia on the Ultimate Loot Chest Limited Edition which contains everything you can see above, the contents of the Deluxe Vault edition as well as a scaled replica of red loot chest, steel book case, "Creatures of Pandora" ID chart, lithograph postcards, Sir Hammerlock's field notes, Pandora cloth map, and a numbered certificate of authenticity.
It is also worth noting that anyone who pre-orders the game will be given access to the Borderlands 2 Premier Club which will reward members with a Golden Key, Gearbox Gun Pack, Vault Hunter's Relic and access to the Mechromancer class when it is released. So Borderlands 2 fans, how much money are you willing to drop on this title?