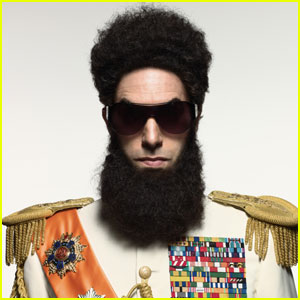 Legendary comedian who takes method acting to a new level, Sacha Baron Cohen (The Dictator, Bruno), has been signed my Paramount Pictures to an exclusive 3-year first-look deal. This includes his Four by Two Films banner, which will be headed by Sir Todd Schulman (The Dictator, Bruno).
Paramount teamed up with Baron Cohen for his latest film, The Dictator, which is due to be released on June 7th. Apparently the partnership worked very well, because Paramount has also created a development fund for Baron Cohen to find new talent in the UK.
Brad Grey, the Chairman and CEO of Paramount Pictures had this to say about Baron Cohen:
"Sacha is a comic genius. A wildly talented writer, actor and filmmaker. Beyond that, he is the rare global comedy star. On behalf of all of us at Paramount, we welcome Sacha and look forward to The Dictator and many more great pictures for years to come."
The Dictator follows a heroic dictator who risks his life to ensure that democracy will never overtake the country he has so lovingly oppressed. With Sacha Baron Cohen, Sir Ben Kingsley and Ana Faris in the cast list this will certainly be the next in a long line of hilarious films from Baron Cohen and is sure to be something to look forward to.
Keep an eye out on Capsule Computers for more information as it comes.